When is YouTube a Good Option for Marketers (Ep. 49)
by MARCUS KRIEG, on Nov 15, 2016 7:44:00 PM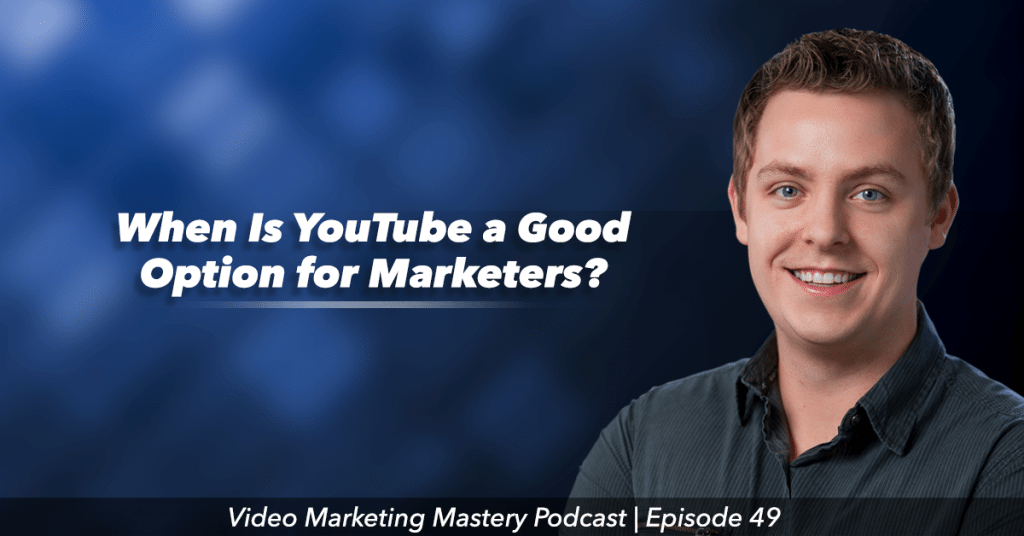 You should know by now that YouTube isn't for everyone.
It's a huge investment of both time and money.
The problem is, many video marketers still talk about YouTube like it will solve all of your marketing problems.
Of course, YouTube is a great community builder. It's a fantastic place to grow an audience and increase awareness about your brand. And it definitely can help boost your search engine rankings and traffic over the long-term.
But it's also a lot of work.
YouTube is a long-term commitment. That means it needs to be a part of a smart strategy that fits your goals.
And no, that doesn't mean uploading your promotional videos and calling that a "strategy." That doesn't work on YouTube and it never did.
Believe us, it's going to take some time before you start seeing any ROI from your YouTube channel, which is why it's so important that you're sure it's a good option for your business before you start investing in YouTube.
To help you make the right decision, ask yourself a few questions before starting your YouTube channel:
Is there an audience on YouTube for the topics you're interested in covering?

How well do you know the information you plan on delivering in your channel?

Are you genuinely passionate about teaching and entertaining, or is YouTube just another place for you to try and gain exposure?
Once you've come up with some answers, you'll want to listen to this podcast to find out if YouTube really makes sense for your business!
Get the episode on iTunes: http://apple.co/2fVSELp
If you like the show, please leave us an honest rating and review on iTunes. You'd really be helping me out!
NOTE: You can also listen to the episode here, or download the episode to your device (right click and save).
In This Episode, You'll Learn:
Whether or not you should consider incorporating YouTube into your marketing strategy

How to find out if the topics that matter to your business will be successful in search

Why keyword research is an important part of deciding if there is value in beginning a channel

How to use "Related Videos" and YouTube's video suggestions to your benefit

Why playlists are more important than you might think they are

Why you have to be an expert in the topics you cover on your channel

Why genuine passion is key to run a YouTube channel

Where you can upload your videos if you don't think YouTube is right for your business
Links & Resources
Thanks for Listening!
Thanks so much for listening to the show! Don't forget to subscribe on iTunes to get automatic updates when new episodes are available.
If you enjoyed the show, please share it using the social media buttons you see on the left.
Also, it would mean a lot to me if you would leave an honest rating and review on iTunes. Ratings and reviews not only help me serve you better, but they make a huge difference in the show's ranking on iTunes.
If you have any questions you'd like featured on the show, or if you would like to suggest an expert (yourself included!), please let us know HERE.