How to Use Video in B2B Marketing (Ep. 135)
by TODD HARTLEY, on Jan 15, 2018 7:28:00 AM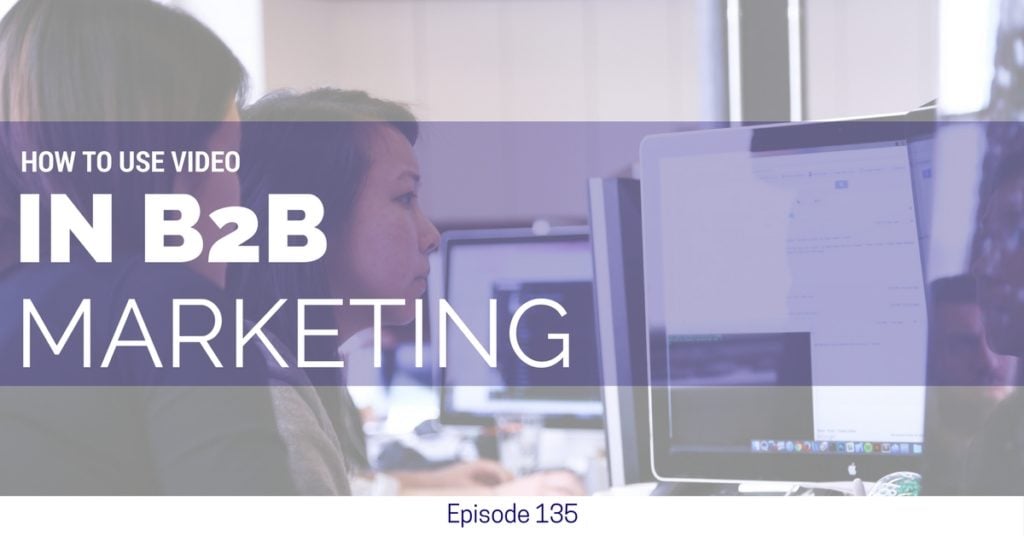 Did you know that most of your prospects don't want to talk to your sales team? You can thank the internet for that, and for fundamentally changing the way we do business.
So how do you get someone's attention when they don't want anything to do with you until the moment they're ready to buy?
B2C marketers think that consumers don't need a lot of information to make a buying decision, and B2B marketers think that getting a consumer to buy is more difficult than it really is.

But here's the rub, it doesn't matter if you're selling to businesses or to individuals. The goal is the same.
What matters is how effective you are at packaging the information and beliefs that make your product a no-brainer and transferring them into your prospect's head. And if you don't package that information in a compelling way, then your prospect's won't digest it (and the sale will be lost).
We don't want that to happen to you.
In this episode, Marcus Krieg, Director of Strategy, and I talk about how businesses can use video to sell to other businesses.
So, if you want to understand how to adjust your video marketing strategy to get better results, then you're going to love this episode of Video Marketing Mastery!.
If you like the show, please leave us an honest rating and review on iTunes. You'd really be helping me out!
NOTE: You can also listen to the episode here, or download the episode to your device (right click and save).
In This Episode, You'll Learn:
How to use video for businesses that are trying to sell to other businesses.

Where a B2B video marketing strategy lives.

Why

only 18% of people are still willing to talk to a salesperson

before they're ready to buy.

Why the traditional method of business to business communication has been fundamentally disrupted.

Why B2C sales aren't necessarily easier than B2B, you have to focus on Human to Human sales.

How to take the information and beliefs that make your product a no-brainer and package it so your audience consumes the information and is compelled by it.

Why Facebook isn't always the optimum place to focus your B2B videos.

How to capture a prospects attention in the moment of need.

One of the biggest challenges that marketers have and how to overcome it.

How actually addressing a pain point can be better than going viral and how to discover client pain points.

How to structure your brand story to make yourself the mentor character.

Why you need to be sensitive to the stories your prospects tell.

How to package your information to boost click-through rates.

Why businesses don't optimize their funnel to identify gaps.

Why traditional organizations take longer to adopt a digital strategy.

Why it's critical as marketers to adopt a lifelong learning mindset.

How to create a linear path to purchase.

When you should or should not position your CEO as the hero.

Whether or not you should withhold pricing, and why not?

How to understand where your prospect

got out of your selling system and detoured

.

How to start with the end in mind when creating video or video courses.

The mindset problem that's keeping marketers from reaching their full potential.
Links & Resources
Pitch us

a question that we can answer in a future podcast episode
Thanks for Listening!
Thanks so much for listening to the show! Don't forget to subscribe on iTunes to get automatic updates when new episodes are available.
If you enjoyed the show, please share it using the social media buttons you see on the left.
Also, it would mean a lot to me if you would leave an honest rating and review on iTunes. Ratings and reviews not only help me serve you better, but they make a huge difference in the show's ranking on iTunes.
If you have any questions you'd like featured on the show, or if you would like to suggest an expert (yourself included!), please let us know HERE.