Todd's Speech In Minneapolis: Using Video To Sell Products at Faster Rates (Ep. 168)
by TODD HARTLEY, on Aug 10, 2018 10:09:00 PM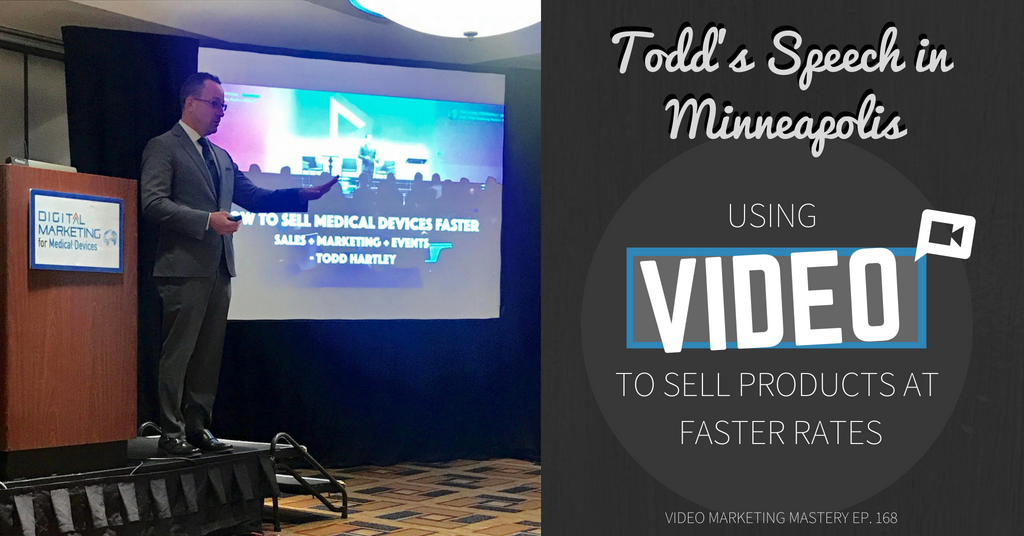 If you had 2-minutes to explain your product or service to someone, could you get them to buy?
Unless it's extraordinarily simple, the answer is probably "no."
The more complex (and expensive) your product or service is, the more information your prospects need before they feel comfortable buying.
But 82% of people want nothing to do with a salesperson until AFTER they're ready to buy.
So if you're relying on your sales team to communicate the essential information about your product or service to your prospects, then you're probably not seeing as much success as you'd like.
That's where video fits in. Not only are people 4x more likely to watch videos than to read text, but they are 85% more likely to buy after watching a product video.
When people learn faster, they buy faster.
But a professionally produced video isn't enough by itself. You need to combine it with a smart sales and marketing strategy in order to guarantee ROI, otherwise, it's a waste of money, right?
This was the topic of my speech at the 8th Annual Digital Marketing for Medical Devices conference earlier this week.
So if you want to learn how to use the power of video to convince and convert at faster rates, then tune into this episode of Video Marketing Mastery.
If you like the show, please leave us an honest rating and review on iTunes. You'd really be helping me out!
NOTE: You can also listen to the episode here, or download the episode to your device (right click and save).
In This Episode, You'll Learn:
Why Chief Marketing Officers have the highest reported turnover rate

Why your video project needs a smart sales and marketing strategy to guarantee ROI

Why video is NOT a tactic, but rather, the best accelerant

The 3 types of videos that every medical device needs

What to do when you have more than one target persona

How to create content for your post-conference email drip sequence
Links & Resources
Todd speaking on stage:
Thanks for Listening!
Thanks so much for listening to the show! Don't forget to subscribe on iTunes to get automatic updates when new episodes are available.
If you enjoyed the show, please share it using the social media buttons you see on the left.
Also, it would mean a lot to me if you would leave an honest rating and review on iTunes. Ratings and reviews not only help me serve you better, but they make a huge difference in the show's ranking on iTunes.
If you have any questions you'd like featured on the show, or if you would like to suggest an expert (yourself included!), please let us know HERE.