Could Censorship be the Kiss of Death for Facebook? (Ep. 141)
by TODD HARTLEY, on Mar 16, 2018 7:51:00 AM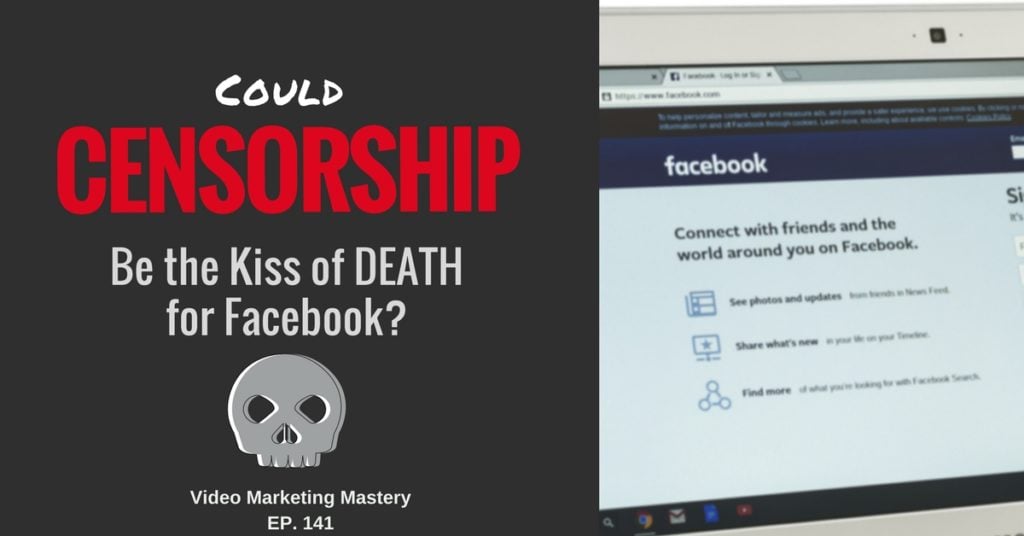 Nobody likes it when Big Brother shows up and censors them.
Remember when you could go online and say whatever you wanted without fear of being deleted. But then all of a sudden, Big Brother showed up.
One by one, websites started censoring their users and stopping them from expressing opposing positions.
But users won't stand for this kind of censoring for very long before they find another platform to use. It's almost formulaic in nature when you see the rise and fall of major platforms. Users flock there for freedom and leave when the censors show up.
Unfortunately, Facebook seems to be following this same formula. About a year ago, they implemented stronger censorship rules, and that's the point I like to call...the kiss of death.
By the way, the reason you listen to this podcast is to get next years digital marketing news, today. Back in episode 52, I said that we're going to check Facebook's stock prices and user engagement metrics in 2018.
And here we are, a year later and Facebook's usage has gone down, despite its stock going up. Users are looking for something new, something fresh, something free.
So join me in this episode as I discuss what increased censorship and decreased usage could mean for Facebook, and your marketing efforts on the platform.
If you like the show, please leave us an honest rating and review on iTunes. You'd really be helping me out!
NOTE: You can also listen to the episode here, or download the episode to your device (right click and save).
In This Episode, You'll Learn:
Why Dan Tyre from Hubspot calls Todd "the original 'Smarketer'"

Why Facebook's censorship policy could be a problem for their business.

How Americans Use Social Media Report about

Facebook's usage is going down

.

Jay Baer's

three reasons

why Facebook usage is declining.

Todd's favorite agency that helps companies increase their sales process.

Why YouTube is limiting the amount of data it shows viewers.

How the Wirebuzz Production team manages their separate YouTube channels.

What not to do if you want to nurture and grow your audience.
Links & Resources
Thanks for Listening!
Thanks so much for listening to the show! Don't forget to subscribe on iTunes to get automatic updates when new episodes are available.
If you enjoyed the show, please share it using the social media buttons you see on the left.
Also, it would mean a lot to me if you would leave an honest rating and review on iTunes. Ratings and reviews not only help me serve you better, but they make a huge difference in the show's ranking on iTunes.
If you have any questions you'd like featured on the show, or if you would like to suggest an expert (yourself included!), please let us know HERE.