How Shorter Attention Spans Are Changing The Music Industry (And What Digital Marketers Can Learn) (Ep. 119)
by TODD HARTLEY, on Sep 19, 2017 5:52:00 AM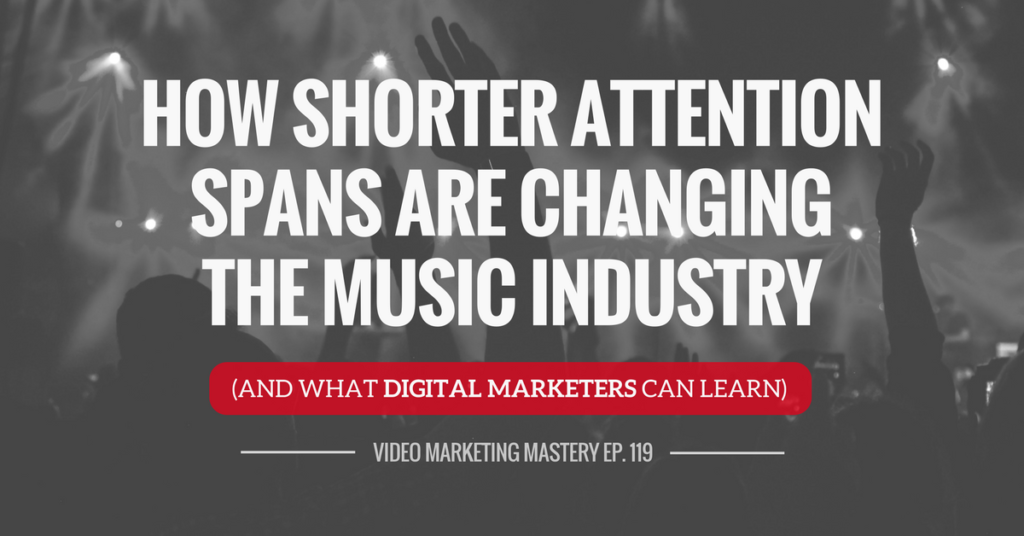 In the mid-1980s, the average time that passed before you would hear the vocals on any radio song was 23 seconds.
Today, that number has dropped to just 5 seconds.
The music industry is adapting to our shorter attention span, which averages 1 second less than a goldfish.
They understand that attention is a scarce commodity, and you have to get to the goods quickly if you want people to hear your message.
The same goes for digital marketers who want to capture their audience's attention and convert at faster rates.
My guest on today's episode is Hubert Léveillé Gauvin, a doctoral student in music theory at The Ohio State University.
He analyzed the Billboard's top 10 songs over the last 30 years and made some fascinating discoveries as they relate to attention span, and how marketers need to adjust to stay competitive.
Press play to listen to the full episode!
If you like the show, please leave us an honest rating and review on iTunes. You'd really be helping me out!
NOTE: You can also listen to the episode here, or download the episode to your device (right click and save).
In This Episode, You'll Learn:
Why attention is a currency governing its own supply and demand model

How advances in technology have increased competition for attention

Why individual songs should be considered small advertisements for artists

How music has changed in the last 30 years to adjust for change in attention span

Why relevancy and attention span go hand-in-hand

How video marketers can improve sales by covertly tracking back-end analytics
Links & Resources
Todd visiting Ohio State University




Gain access to our free Video ROI mini-course by signing up

here

Pitch us

a question that we can answer in a future podcast episode
Thanks for Listening!
Thanks so much for listening to the show! Don't forget to subscribe on iTunes to get automatic updates when new episodes are available.
If you enjoyed the show, please share it using the social media buttons you see on the left.
Also, it would mean a lot to me if you would leave an honest rating and review on iTunes. Ratings and reviews not only help me serve you better, but they make a huge difference in the show's ranking on iTunes.
If you have any questions you'd like featured on the show, or if you would like to suggest an expert (yourself included!), please let us know HERE.