Why Digital Agencies Struggle with Video (Ep. 121)
by TODD HARTLEY, on Sep 26, 2017 6:06:00 AM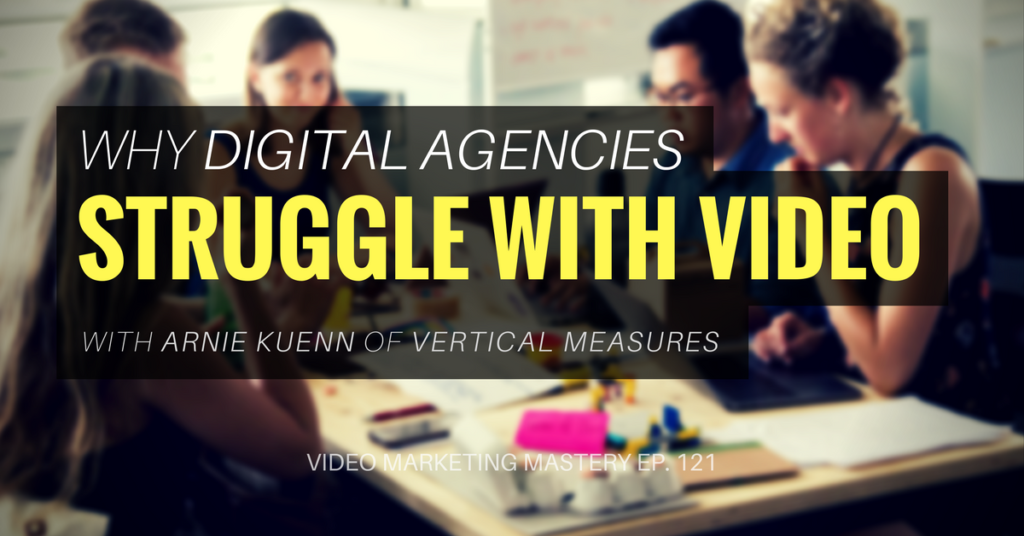 Video marketing is a whole 'nother beast compared to its counterparts.
Unlike your day-to-day content marketing efforts, a great video that generates ROI requires the right equipment, a video production team, scriptwriters and funnel experts.
And considering most digital marketers are first generation search marketing and web development specialists, it's easy to see why agencies struggle with video — it's a new paradigm.
But anyone with a daily commitment to educate themselves and stay relevant with industry trends can improve their skills.
Just like my good friend and mentor, Arnie Kuenn, CEO of Vertical Measures. He's an expert in SEO and content marketing, but he's actively studying how video complements his business.
Together, we'll explore the challenges that agencies face with video as well as what's working now with SEO and mobile.
If you like the show, please leave us an honest rating and review on iTunes. You'd really be helping me out!
NOTE: You can also listen to the episode here, or download the episode to your device (right click and save).
In This Episode, You'll Learn:
Why digital agencies typically struggle with video

What Vertical Measures specializes in

Why it's critical that your CEO understands the value of hiring an outside agency

The best practices to follow that give your content the best chance at ranking on page 1 of Google

Why all digital marketing thought leaders commit to reading and studying the industry daily

What mobile statistics are telling us about user behavior, and how you can use them to your advantage

Why you should spend at least 20 minutes crafting a great title, title tag, and meta description for your content

Vertical Measures' upcoming book release about the customer journey and amplifying content
Links & Resources
Thanks for Listening!
Thanks so much for listening to the show! Don't forget to subscribe on iTunes to get automatic updates when new episodes are available.
If you enjoyed the show, please share it using the social media buttons you see on the left.
Also, it would mean a lot to me if you would leave an honest rating and review on iTunes. Ratings and reviews not only help me serve you better, but they make a huge difference in the show's ranking on iTunes.
If you have any questions you'd like featured on the show, or if you would like to suggest an expert (yourself included!), please let us know HERE.