How to "Spy" on Your Prospects (And Sell to Them Faster) (Ep. 176)
by TODD HARTLEY, on Oct 2, 2018 1:18:00 AM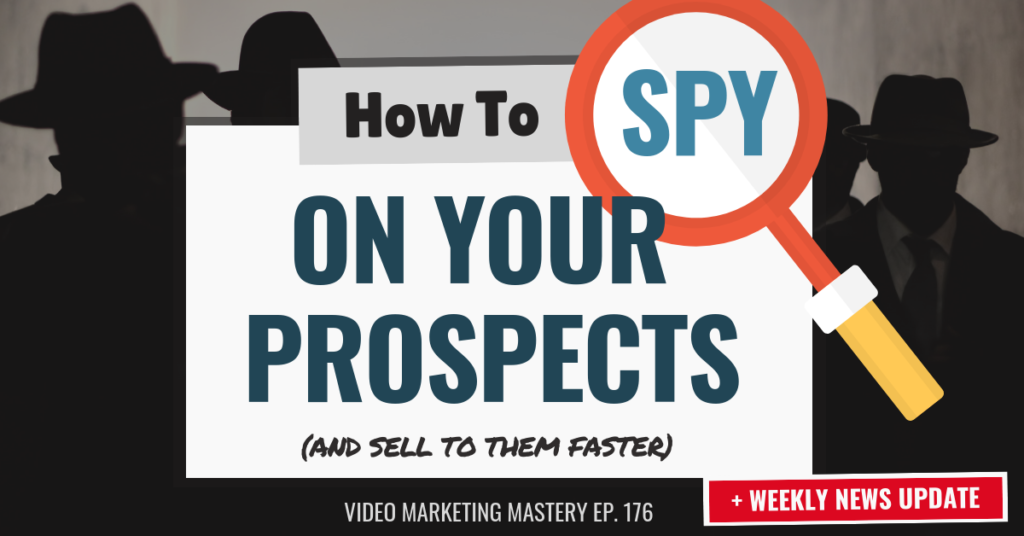 Knowing who's interested in your business helps you close deals faster.
Wouldn't you agree?
But the challenge that businesses run into is not being able to identify which prospects are hot and which prospects are not.
When you don't have a process to segment leads at the consideration and decision stage of your funnel from leads who are in the awareness stage, then your sales team will waste valuable time following up with prospects who aren't ready to make a buying decision.
And I know you hate wasting time.
So let's talk about how to do this the right way.
You can't track how long individual leads spend on your webpage, but with video, you can track key indicators of interest such as:
How long they watch a video

How many times they watch a video

Where they rewound the video or stopped watching altogether

How many total videos they've watched
And the best part is that my sales team gets real-time notifications whenever prospects show strong indicators of buying intent, like watching 80% of a sales video.
How much more profitable could your business be if you prioritize your sales follow up this way?
Look, my strength is helping you prepare for future trends and giving you insight into innovative tactics and strategies that very few people (if any) are using.
So if you want to learn how to use covert data to "spy" on your leads and convert them into sales faster, then tune into this episode of Video Marketing Mastery.
If you like the show, please leave us an honest rating and review on iTunes. You'd really be helping me out!
NOTE: You can also listen to the episode here, or download the episode to your device (right click and save).
In This Episode, You'll Learn:
How I use covert data to provide an elevated customer experience to my prospects

The key video metrics you should pay attention to and why

The best way to optimize your sales funnels to make it more compelling and persuasive

How I discovered that a U.S. Government Agency visited my site over 40 times in 2 days

Why most businesses are wrong when they say, "we need more leads."

How to

make the digital shopping experience easier

for your customers
Links & Resources
Gain access to our free Video ROI mini-course by signing up

here

Pitch us

a question that we can answer in a future podcast episode
Thanks for Listening!
Thanks so much for listening to the show! Don't forget to subscribe on iTunes to get automatic updates when new episodes are available.
If you enjoyed the show, please share it using the social media buttons you see on the left.
Also, it would mean a lot to me if you would leave an honest rating and review on iTunes. Ratings and reviews not only help me serve you better, but they make a huge difference in the show's ranking on iTunes.
If you have any questions you'd like featured on the show, or if you would like to suggest an expert (yourself included!), please let us know HERE.