4 Steps For Persuading Your Stakeholders To Invest In Video (Ep. 47)
by TODD HARTLEY, on Nov 1, 2016 7:47:00 AM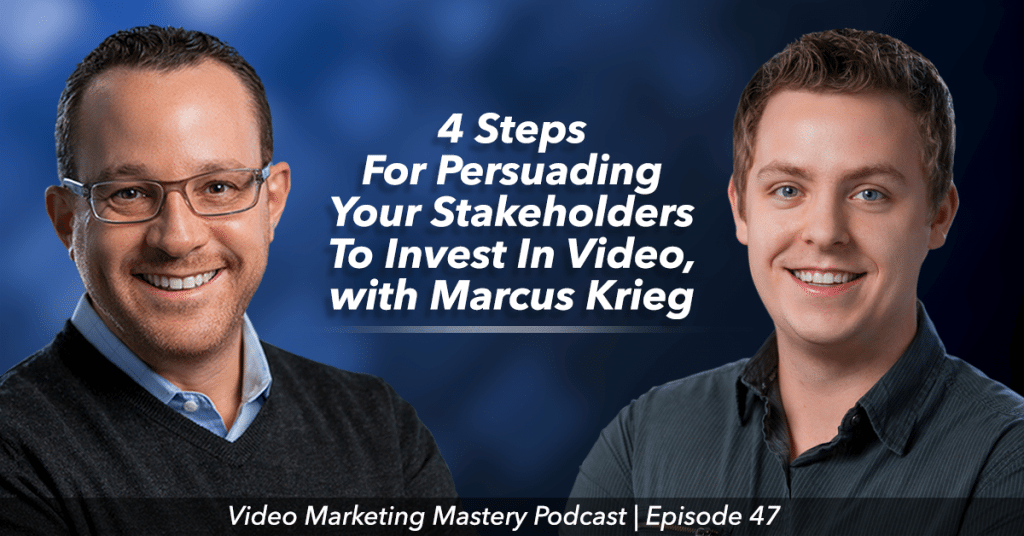 Sure, you understand the power of video. You're convinced that video is going to generate leads, boost sales, and skyrocket your company's ROI...
But what about your boss?
Even today, many key stakeholders don't recognize the significant advantage video can provide to a business.
Maybe they don't know that businesses that use video are growing 49% faster than their industry competitors. Or perhaps they don't know that 4 out of 5 people think a product video is important to the buying process, with 25% saying that they lose interest in companies that don't use video.
So the question is: how do you persuasively inform key stakeholders about the importance of video, without turning it into a conflict over company resources?
It's an important question, which is why I've brought back Marcus Krieg to walk you through a simple four-step framework for persuading your coworkers to give video marketing a try.
If you're fighting to get video adopted at your company, then this is a great episode you won't want to miss!
Get the episode on iTunes: http://apple.co/2fhLv6K
If you like the show, please leave us an honest rating and review on iTunes. You'd really be helping me out!
NOTE: You can also listen to the episode here, or download this episode to your device (right click and save).
In This Episode, You'll Learn:
News Update: Twitter

shut down

Vine on Thursday, the short-from, looping video app

News Update: YouTube

launched mobile-friendly

End Screens that prompt viewers to take specific actions like watch another video, subscribe to your channel, link to an associated website, and more

News Update: Apple

announced

the release date, pricing, and specs for the new MacBook Pro

How to convince your boss that your company needs video

Some of the most compelling statistics about video marketing

Why the window of opportunity as a competitive advantage for video is diminishing

Why video is so persuasive to your prospects

Why an annual budget model is becoming outdated

How video may take a larger chunk out of the budget, but greatly increases ROI

What a video pilot program is and how to use it to convince your key stakeholders to invest in video

How to identify the best videos to start with when planning your pilot program

Why an explainer video is the safest investment for your business

How video can help make your sales team more efficient

How storytelling can not only convert prospects into customers, but also reassure your business's leaders that video is a smart investment
Links & Resources
The WireBuzz team is dressed up for WireBuzz Day and Halloween!
Super Happy and Wendy are off to save the day!
And the costume contest winner is...the Canon 5D Mark IV (A.K.A. Ashlyn)!
Thanks for Listening!
Thanks so much for listening to the show! Don't forget to subscribe on iTunes to get automatic updates when new episodes are available.
If you enjoyed the show, please share it using the social media buttons you see on the left.
Also, it would mean a lot to me if you would leave an honest rating and review on iTunes. Ratings and reviews not only help me serve you better, but they make a huge difference in the show's ranking on iTunes.
If you have any questions you'd like featured on the show, or if you would like to suggest an expert (yourself included!), please let us know HERE.