How to Create a Hub and Spoke Content Marketing Strategy, with Mike Huber (Ep. 170)
by TODD HARTLEY, on Aug 22, 2018 10:16:00 PM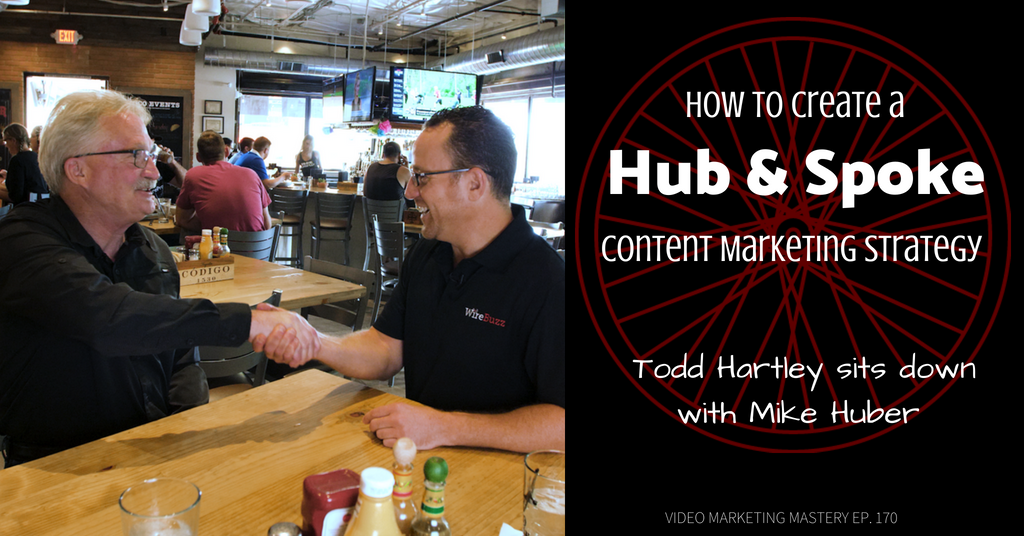 Creating a content marketing strategy that generates results is a puzzling endeavor for many businesses.
In fact, a recent study discovered that 70 percent of marketers lack an integrated content strategy. But we also know that 82% of buyers want nothing to do with a salesperson until they're ready to buy.
So how can you create a content marketing strategy that educates prospects about their problems, warms them up to your solution, and persuades them to purchase from YOU over your competitors (without relying on salespeople)?
Try implementing the "hub and spoke" content marketing model.
Let me explain.

Hub content is a unique, evergreen piece of content that someone is willing to exchange their contact information for in order to get. Some examples of hub content can be ebooks, white papers, infographics, interactive quizzes, or ultimate guides.
Spokes are more digestible pieces of content that are related to and link back to the hub content. They can be blog articles, social media posts, slideshare presentations, videos, memes, etc.
I've invited Mike Huber, Senior Director of Strategy and Education at Vertical Measures, to explore this topic further.
So if you're curious to know how to implement a hub and spoke content marketing model in your business so you can generate higher quality leads and sell to them faster, then you won't want to miss this episode of Video Marketing Mastery.
If you like the show, please leave us an honest rating and review on iTunes. You'd really be helping me out!
NOTE: You can also listen to the episode here, or download the episode to your device (right click and save).
In This Episode, You'll Learn:
What is the Hub and Spoke model and how to align it with your content marketing strategy

The value in having individual hubs for each of your product lines

How Domino's Pizza and Dollar Shave Club built an "audience they own"

How to repurpose your Hub content for different social media platforms

Why you should create your content marketing strategy before you create hub and spoke content
Links & Resources
Thanks for Listening!
Thanks so much for listening to the show! Don't forget to subscribe on iTunes to get automatic updates when new episodes are available.
If you enjoyed the show, please share it using the social media buttons you see on the left.
Also, it would mean a lot to me if you would leave an honest rating and review on iTunes. Ratings and reviews not only help me serve you better, but they make a huge difference in the show's ranking on iTunes.
If you have any questions you'd like featured on the show, or if you would like to suggest an expert (yourself included!), please let us know HERE.