How to Get 20x More Shares On LinkedIn (Ep. 128)
by TODD HARTLEY, on Nov 9, 2017 7:10:00 AM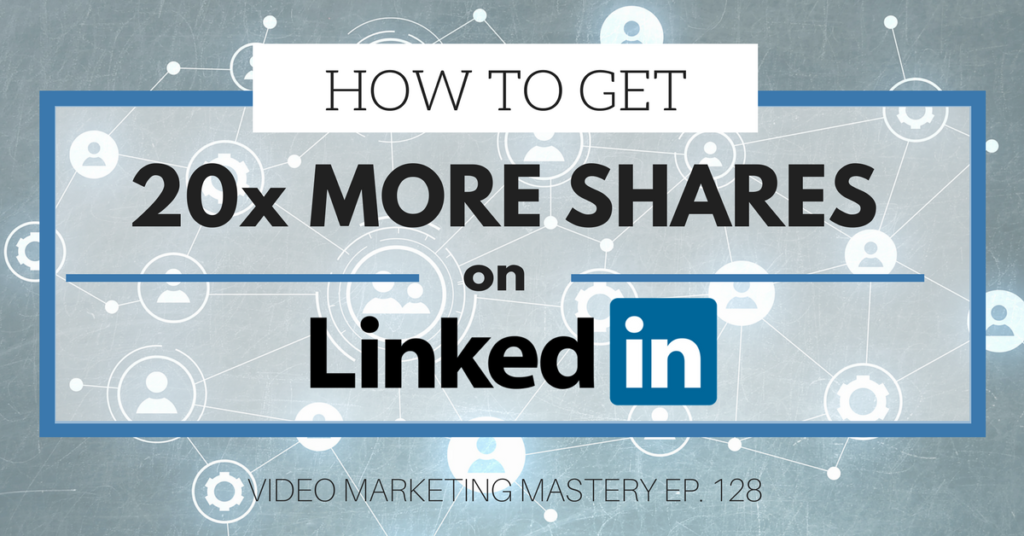 Plenty of marketers think having a LinkedIn presence is enough. They're wrong.
Earlier this year, LinkedIn added a new feature that let publishers upload native video content, and more importantly, see into the analytics — like who's watching and what company they work for.
And now, the professional network has announced their push into selling video ads.
Better late than never, right?
This is a huge opportunity for early adopters to amplify their content on a platform that hasn't been saturated by advertisers...yet.
And if you're not using these features — and using them in a way to maximize attention and engagement — then you're leaving all that highly engaged potential LinkedIn traffic you could be generating out in the cold.
Not to worry — we're here to guide you in the right direction, share which type of content gets 20x more shares on LinkedIn, plus update you on the latest news that matters in this episode of Video Marketing Mastery.
If you like the show, please leave us an honest rating and review on iTunes. You'd really be helping me out!
NOTE: You can also listen to the episode here, or download the episode to your device (right click and save).
In This Episode, You'll Learn:
Links & Resources
Thanks for Listening!
Thanks so much for listening to the show! Don't forget to subscribe on iTunes to get automatic updates when new episodes are available.
If you enjoyed the show, please share it using the social media buttons you see on the left.
Also, it would mean a lot to me if you would leave an honest rating and review on iTunes. Ratings and reviews not only help me serve you better, but they make a huge difference in the show's ranking on iTunes.
If you have any questions you'd like featured on the show, or if you would like to suggest an expert (yourself included!), please let us know HERE.