Celebrating Audience Stories From Around the World: Part 2 (Ep. 201)
by TODD HARTLEY, on May 14, 2019 2:16:00 AM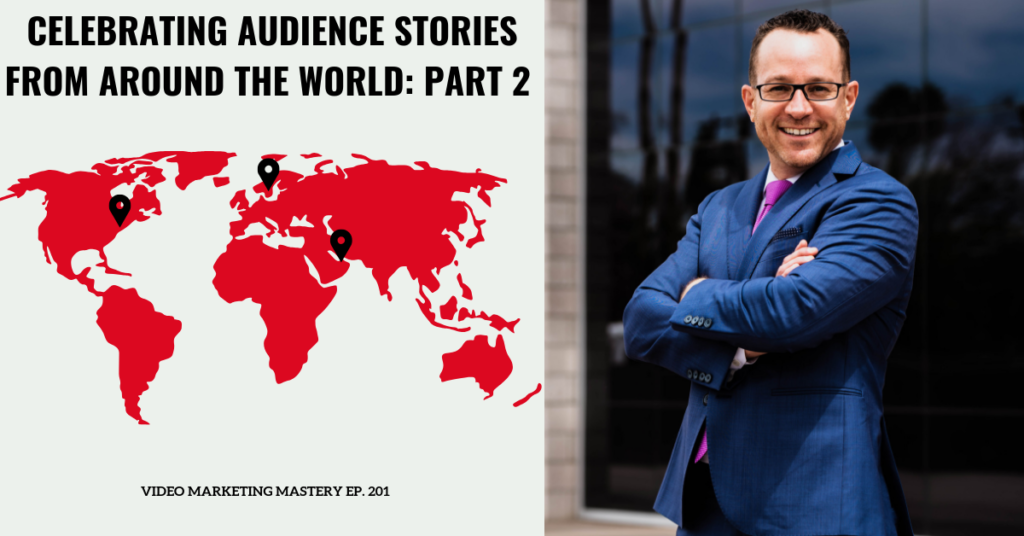 In this week's episode, we've got more great interviews to share, featuring listeners from around the globe who've taken what they've learned from the podcast and applied it to their own businesses.
This week we're interviewing N'tchidje Doumbia, Thomas Hoflin, and Vit Kodousek.
N'tchidje started out as a sound engineer with his own recording studio and transitioned to owning a video production company.
Thomas has been listening since our earliest episodes and talks about how the podcast has helped his business.
And Vit talks about his experience working in the video marketing world over the past 20 years.
It's awesome to see the impact this podcast has had on people's businesses around the world and I am grateful for you.
To hear our interviewee's full stories and how they've used what they've learned from the show, tune into this episode of Video Marketing Mastery!
If you like the show, please leave us an honest rating and review on iTunes. You'd really be helping me out
NOTE: You can also listen to the episode here, or download the episode to your device (right click and save).
In This Episode, You'll Learn:
How individuals around the world are using video in their careers

The driving force that should be considered when creating videos

How N'tchidge, Thomas, and Vit are leveraging videos in their countries
Links & Resources
Thanks for Listening!
Thanks so much for listening to the show! Don't forget to subscribe on iTunes to get automatic updates when new episodes are available.
If you enjoyed the show, please share it using the social media buttons you see on the left.
Also, it would mean a lot to me if you would leave an honest rating and review on iTunes. Ratings and reviews not only help me serve you better, but they make a huge difference in the show's ranking on iTunes.
If you have any questions you'd like featured on the show, or if you would like to suggest an expert (yourself included!), please let us know HERE.