9 Cost-Saving Tips For Creating Professional Videos at Scale (Ep. 32)
by TODD HARTLEY, on Jul 19, 2016 2:29:00 AM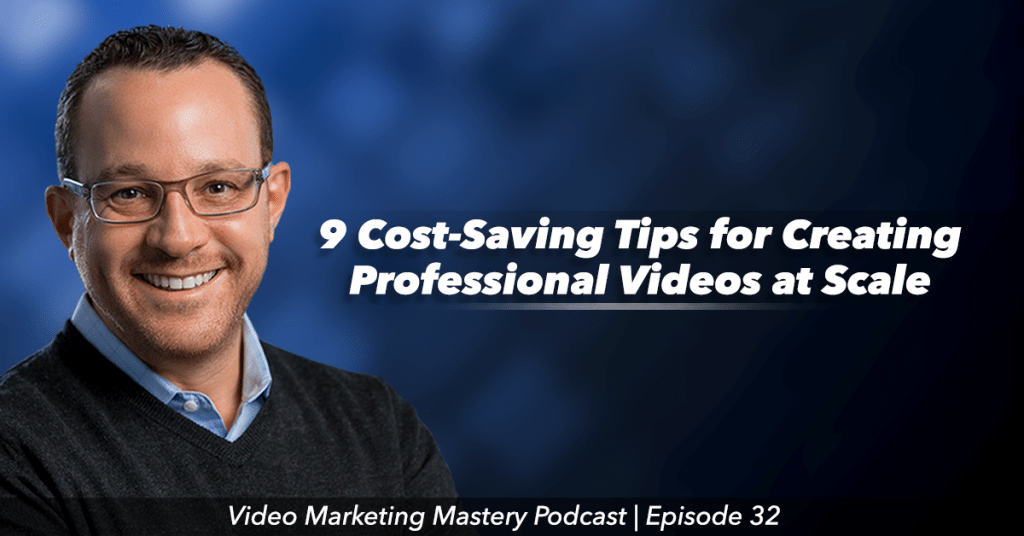 If there's one thing that prevents businesses from creating videos, it's this...
Video is more expensive.
Maybe it even feels too expensive for your company to invest in right now.
Yes, video usually has a higher price tag than text or images. And there's a lot that goes into a single production.
You have to hire a video crew and take time out of your busy day to get in front of the camera.
You need to figure out what topics you want to cover, and decide what types video content you need. You might even have to hire actors or find customers that are willing to give testimonials.
We understand that taking the plunge into video can be intimidating because of the cost (both time and money) associated with it.
But it doesn't always have to be that way.
There are lots of ways to get more out of your video investment and produce videos at scale.
In this episode, Todd will share 9 cost-saving techniques for producing videos that fit your budget.
Get the episode on iTunes: http://apple.co/2a72V99
If you like the show, please leave us an honest rating and review on iTunes. You'd really be helping me out!
NOTE: You can also listen to the episode here, or download the episode to your device (right click and save).
In This Episode, You'll Learn:
Reminder: our podcast is now published every Tuesday instead of Thursday, so don't be late!

News Update: Due to the growing success of video,

Facebook is testing offline video

in emerging global economies–find out why

News Update:

Is square video the next big thing?

Facebook has updated its creative guidelines to suggest uploading videos with a 1:1 ratio, rather than the traditional 16:9 ratio traditionally used in television

News Update: Both Twitter and Facebook will be teaming up with traditional networks and other media networks to

livestream both presidential conventions

–tune in to find out more details

News Update: Twitter has partnered with Bloomberg Media and will be

livestreaming three Bloomberg TV programs

this fall

How you can save money by making videos at conferences and meetings

Why animated videos are perfect for global companies and rapidly changing industries

How to reuse and repurpose your animated videos to continually increase ROI

Why you always want to get b-roll when you hire a video crew, even if you're not planning to use that footage in your next video

How to atomize your videos to extend your company's reach and the increase lifespan of the video

Why you should never limit your video upload to a single social media or hosting platform

What montage videos are, and how to use pre-existing content to create more impact opportunities

How to use your website's analytics to discover which pages are already performing well, and then recreate the content of that page in video form to boost search results, attention recall, and more

The value of a two-camera shoot to make a visually stimulating video

Why batch processing is the key to making lots of of valuable, helpful video content without spending a lot of time and money

Why a successful day of shooting only comes when you have a succinct plan of attack (and what shoot-day preparation should look like)

What types of videos to make that will give you the most for your investment, and how to use them to move people through your sales cycle

Why you should use live video at every event and conference you attend to create content that is virtually free
Links & Resources
Free Worksheet: How to Choose Profitable Video Topics
Episode 29: Using Video to Get the Most Out of Your Conference Strategy
Episode 9: Using Video for Thought Leadership and Customer Service, with Jay Baer
Episode 17: How to Choose the Right Video Hosting Provider for Your Goals, with Wistia's Chris Savage

Sign up for our weekly

email newsletter

to stay up-to-date on WireBuzz's latest content
Thanks for Listening!
Thanks so much for listening to the show! Don't forget to subscribe on iTunes to get automatic updates when new episodes are available.
If you enjoyed the show, please share it using the social media buttons you see on the left.
Also, it would mean a lot to me if you would leave an honest rating and review on iTunes. Ratings and reviews not only help me serve you better, but they make a huge difference in the show's ranking on iTunes.
If you have any questions you'd like featured on the show, or if you would like to suggest an expert (yourself included!), please let us know HERE.