Reviewing Vidyard's 2019 State of Video in Business (Ep. 192)
by TODD HARTLEY, on Mar 12, 2019 1:54:00 AM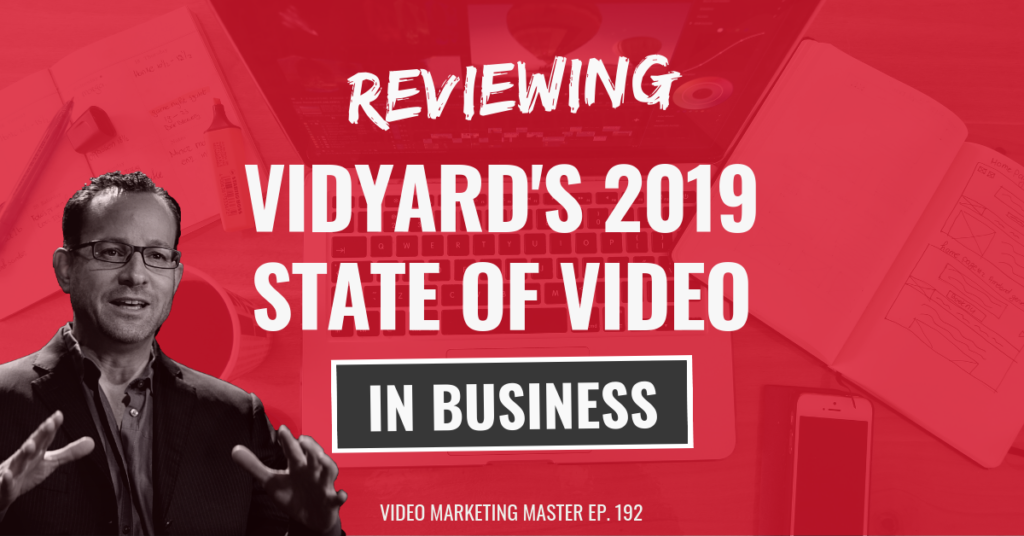 What's going on out there in the world of video and B2B? How are things changing? What's hot this year?
Vidyard's "2019 State of Video in Business Report" is hot of the press and packed with actionable information.
The magnitude of video continues to snowball and marketing leaders are under greater pressure to understand and improve the performance of video investments.
And businesses who don't adopt video into their processes will inevitably be left behind.
Are you keeping up?
In this episode, I interview Tyler Lessard, the VP of Marketing at Vidyard. Together, we'll walk through some of the key takeaways from the report, including examples of how companies are using video throughout the whole customer lifecycle.
So if you're interested in learning where video is at now, where it's going, and what you need to know to create a winning strategy, tune into this episode of Video Marketing Mastery.
If you're curious to know what the state of video in business in 2019 is, tune into this episode of Video Marketing Mastery!
If you like the show, please leave us an honest rating and review on iTunes. You'd really be helping me out!
NOTE: You can also listen to the episode here, or download the episode to your device (right click and save).
In This Episode, You'll Learn:
Why all businesses are now media companies who need to think more like publishers

How you can integrate video into your business processes (beyond sales and marketing)

The two types of personalized video approaches (plus examples of each)

How support teams can leverage video to create better customer experiences

How your business can benefit from the major forces that are shaping video this year
Links & Resources
Gain access to our free Video ROI mini-course by signing up

here
Pitch us

a question that we can answer in a future podcast episode
Thanks for Listening!
Thanks so much for listening to the show! Don't forget to subscribe on iTunes to get automatic updates when new episodes are available.
If you enjoyed the show, please share it using the social media buttons you see on the left.
Also, it would mean a lot to me if you would leave an honest rating and review on iTunes. Ratings and reviews not only help me serve you better, but they make a huge difference in the show's ranking on iTunes.
If you have any questions you'd like featured on the show, or if you would like to suggest an expert (yourself included!), please let us know HERE.