How to Use Video to Make Your Sales Proposals More Effective (Ep. 149)
by TODD HARTLEY, on May 9, 2018 8:10:00 AM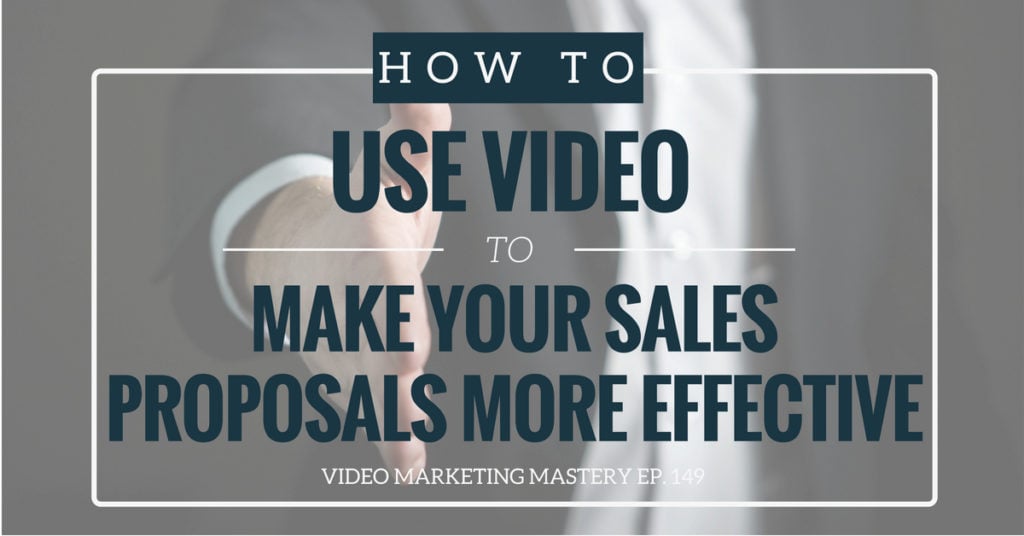 When was the last time someone convinced you to buy their product or service with paragraphs of text? Probably 1995, right?
The sales proposal has changed, and for the better. But many companies are still serving up their information via text, and they wonder why they're not seeing conversions.
The statistics are clear, video is the way people prefer to learn. Imagine what sending a video follow-up to a proposal could do for your conversions.
In this episode of Video Marketing Mastery, we'll talk about how to use video to elicit a response from your prospects and improve your conversion rates.
Does customer service matter? Yes! Does follow-up matter? Yes! But it's how you do these things and how you leverage video that determines the success of every tactic.
To learn how the power of video will skyrocket the success of your proposals, tune into this episode of Video Marketing Mastery.
If you like the show, please leave us an honest rating and review on iTunes. You'd really be helping me out!
NOTE: You can also listen to the episode here, or download the episode to your device (right click and save).
In This Episode, You'll Learn:
How to use video in the sales process.

Why I "hack" a lot of things, including my own signature.

How buyers are different today than they used to be.

What to think about when you're creating your proposals.

How to make learning easy with the type of content people prefer learning from.

Why I convinced my wife to film my heart procedure almost 10 years ago.

What percentage of videos on Netflix are Netflix original content?
Links & Resources
Why You Should Walk Prospects Through The Proposal (Instead of Emailing It)
How To Get Prospects To Share Your Proposal With The Primary Decision Maker
Gain access to our free Video ROI mini-course by signing up

here

Pitch us

a question that we can answer in a future podcast episode
Thanks for Listening!
Thanks so much for listening to the show! Don't forget to subscribe on iTunes to get automatic updates when new episodes are available.
If you enjoyed the show, please share it using the social media buttons you see on the left.
Also, it would mean a lot to me if you would leave an honest rating and review on iTunes. Ratings and reviews not only help me serve you better, but they make a huge difference in the show's ranking on iTunes.
If you have any questions you'd like featured on the show, or if you would like to suggest an expert (yourself included!), please let us know HERE.