How to Avoid a Video Marketing Trainwreck (Ep. 94)
by TODD HARTLEY, on Jun 14, 2017 11:32:00 PM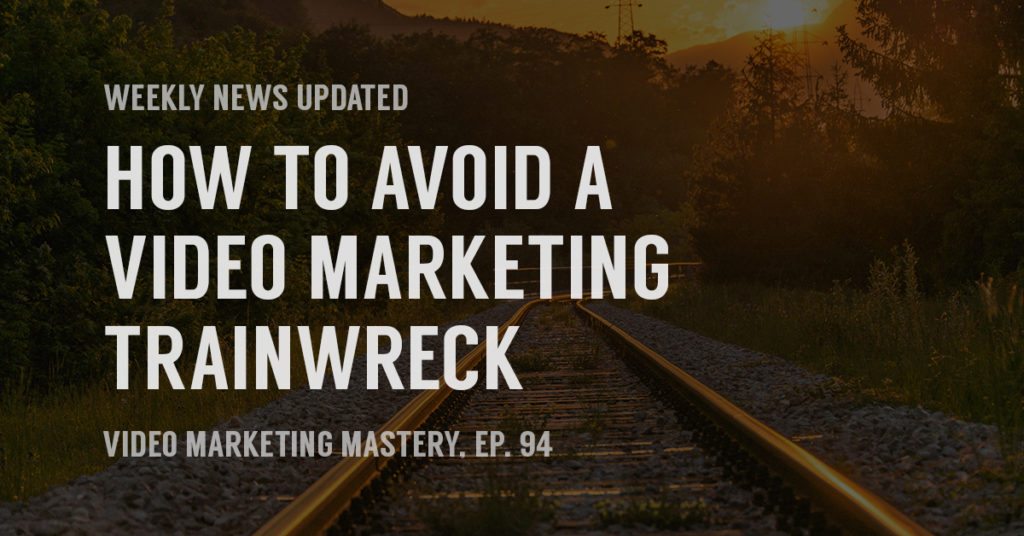 Video marketers have a tendency to make video sound like the end-all be-all to any business problem — making it out to be the holy grail of digital marketing.
But the truth is, even the best videos won't take the place of tried and true online marketing tactics. In order for your videos to perform (and more importantly — generate ROI) you need to use them as a part of a larger strategy.
Videos need to be seamlessly integrated with the rest of your marketing to be effective, so that you don't end up with a train wreck on your hands.
As with every Video Marketing Mastery podcast episode, I want to do everything I can to make sure your business is approaching video marketing in a smart, strategic way. So listen to this podcast episode to learn how to avoid the trainwreck and "keep everything on track", plus the latest in video marketing news!
If you like the show, please leave us an honest rating and review on iTunes. You'd really be helping me out!
NOTE: You can also listen to the episode here, or download the episode to your device (right click and save).
In This Episode, You'll Learn:
How close

our clients

are to detecting early stage cancer

How to use video to enhance your online marketing tactics

The rapid rate at which network

television viewers

are declining

How Amazon is

helping out

customers that can't afford their Prime membership

How a 93-year-old

bride-to-be

is choosing her wedding dress

The next

rumored

Apple device

Why SnapChat has acquired a

location-based analytics

and ad measurement startup called Placed

How Apple nailed their copy at their

WWDC 2017 keynote

What the WireBuzz team thinks about

QR codes

How IOS 11 is going to make

splitting the check

easier

What apple is doing to stop videos from

autoplaying

in the Safari browser

The great time Colin and I had with our clients, TimefireVR

What reportedly causes

NBA players

to perform worse on gameday

What former NFL coaches and twin brothers,

Rex and Rob Ryan

, did that went viral on Twitter

What YouTube's updated

Creator Guidelines

mean to the YouTube community
Links & Resources
Tweet me

@TheToddHartley

if you're a new follower and want to receive a personalized video from yours truly

Gain access to our free Video ROI mini-course by signing up

here

Pitch us

a question that we can answer in a future podcast episode
Check out these videos of Colin and I exploring Hypatia, the first virtual reality city, created by our friends at TimefireVR!
Thanks for Listening!
Thanks so much for listening to the show! Don't forget to subscribe on iTunes to get automatic updates when new episodes are available.
If you enjoyed the show, please share it using the social media buttons you see on the left.
Also, it would mean a lot to me if you would leave an honest rating and review on iTunes. Ratings and reviews not only help me serve you better, but they make a huge difference in the show's ranking on iTunes.
If you have any questions you'd like featured on the show, or if you would like to suggest an expert (yourself included!), please let us know HERE.