The Dark Side of Video: 5 Critical Mistakes Marketers Make (Ep. 65)
by TODD HARTLEY, on Feb 28, 2017 9:24:00 PM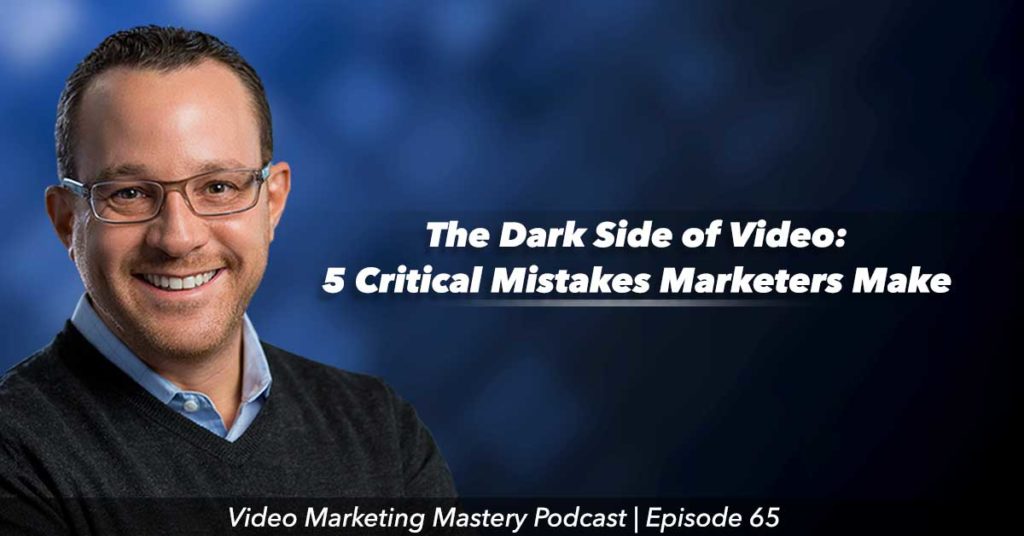 We talk a lot about the benefits of incorporating video into your sales and marketing strategies...
But you should know about the dark side of video, too.
There's no doubt that video marketing requires an investment. And we're not too shy about sharing that, because we also know that video produces the best results.
But with just a few missteps, it's easy to waste your time and money on an ineffective video. Unfortunately, we see it more often that we'd like.
Here at WireBuzz, we want nothing more than to see your business get ROI from your video investment.
In many cases, that means knowing which pitfalls to avoid, which is why we're showing you the way by sharing some of the biggest mistakes marketers make when using video to educate prospects and drive sales.
In this episode of Video Marketing Mastery, we're going to pull back the curtain on the dark side of video — the 5 biggest mistakes marketers typically make in their video marketing — so your business can avoid those embarrassing blunders and generate ROI.
Get the episode on iTunes: http://apple.co/2lA7U2x
If you like the show, please leave us an honest rating and review on iTunes. You'd really be helping me out!
In This Episode, You'll Learn:
News Update: The Washington Examiner's report about campuses & administrators encouraging students to report one another, or their professors, for speech protected by the First Amendment, or even mere political disagreements
News Update: Michigan State University is banning whiteboards on the outside of their dorm rooms
News Update: A YouTube feed of a giraffe giving birth was temporarily removed after complaints that the stream contained nudity and sexually explicit material
News Update: Universal Pictures teamed up with 5th Wall Agency to release a totally unwatchable Fifty Shades Darker 360-degree video
News Update: Destination BC's use of 360-degree immersion videos, is another reason why VR 360 isn't a smart way for businesses to use video
News Update: Richard Nieva's great read on CNET about Snapchat's confusing interface
News Update: Check out some key clips from Snapchat's IPO video on The New York Times
News Update: Thistle has launched a new product: Thistle Baby
The 5 biggest mistakes marketers make when using video
Why fluffy, top-of-funnel videos don't always drive ROI
How to close more deals by creating videos for the end of your sales funnel
The proper way to promote your sales process videos
What kinds of videos you should be investing more in
How to cast a "halo effect" on your business by creating high-quality evergreen content
Why overinvesting in perishable video content hurts your ROI
Where we typically see a disconnect between production and marketing teams
How to use proven persuasive frameworks to increase your video's performance
How to bridge the gap between your marketing and sales teams
Links
Entrepreneur's Uncensored Guide to Snapchat
Barron's article on how Twitter built their largest revenue generator around video ads
Check out some behind-the-scenes (BTS) footage of our 2-week shoot with Dignity Health in California
Thanks for Listening!
Thanks so much for listening to the show! Don't forget to subscribe on iTunes to get automatic updates when new episodes are available.
If you enjoyed the show, please share it using the social media buttons you see on the left.
Also, it would mean a lot to me if you would leave an honest rating and review on iTunes. Ratings and reviews not only help me serve you better, but they make a huge difference in the show's ranking on iTunes.
If you have any questions you'd like featured on the show, or if you would like to suggest an expert (yourself included!), please let us know HERE.