Three Daily Success Rituals That Create Video Marketing Masters (Ep. 108)
by TODD HARTLEY, on Aug 2, 2017 1:33:00 AM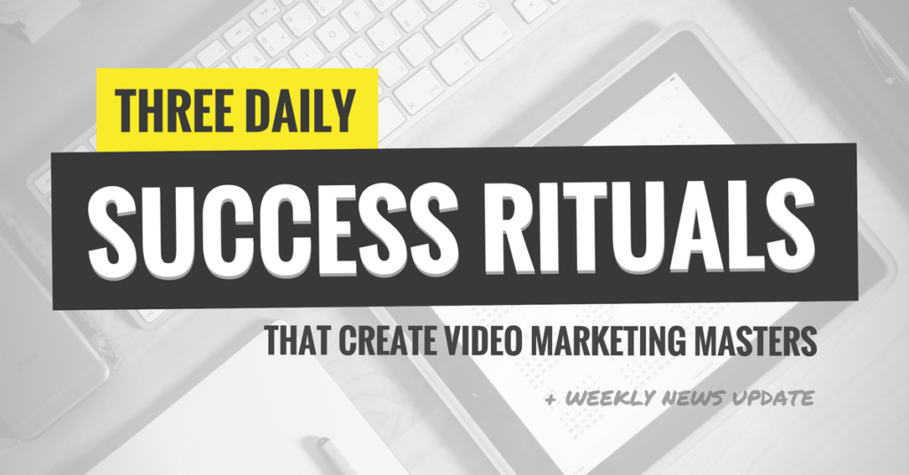 You don't have to be the smartest or brightest person in your field to become an expert.
That's a birth-blessing that only happens to a lucky few in every industry, and luck didn't strike me.
In spite of that, I learned how to be resourceful and it made up the difference.
So tune into this week's podcast because I'm going to share three daily success rituals that have transformed me into a video marketing master.
It's how I stay cutting-edge...
It's how I'm able to share relevant and unique information...
It's how I'm able to help businesses generate more revenue and go to the next level using video...
And it's a lot simpler than you may think.
(Plus, catch up on all the major news and headlines that matter to video marketers!)
If you like the show, please leave us an honest rating and review on iTunes. You'd really be helping me out!
NOTE: You can also listen to the episode here, or download the episode to your device (right click and save).
In This Episode, You'll Learn:
Why video marketing stretches way beyond just YouTube (Hint: YouTube is just a small piece of the interconnective tools and tactics that video marketers need to understand in order to bring their target customers through a buyer's journey)

Why YouTube is

shutting down their built-in editor feature

in September

When and why

Google Play and YouTube Red are merging

to create a new streaming service

Why the "riches are in the niches" and how you can hockey stick your growth by connecting different niches together with one parent app or service.

How brands can use

social media tools

to become helpful thought leaders in their space rather than just marketing hype.

How our client, 23andMe, made the

16 best-seller products list from Amazon Prime Day 2017

(Clue: if you have a breakout product, don't be afraid to compete on a platform where your product normally and historically wouldn't be found)

The 3 daily rituals that allow me to provide my clients with tactical, results driven actions AND become a video marketing master

How the popular popcorn brand, Boomchickapop, saw a

23% lift in sales

by designing a mobile-first marketing campaign.

Snapchat's new "Multi-Snap" feature

that's going to make the platform more valuable in the eyes of advertisers

Why Facebook could be testing a

paywall for media stories

as soon as October

The smart-home gadget

that Facebook may launch to get you messaging more friends and looking at more photos

What Facebook needs to do today, if they want to create the

virtual reality world of tomorrow

How

Campbell Soup

separated itself from their competitors by taking steps towards being the leader in food transparency
Links & Resources
Thanks for Listening!
Thanks so much for listening to the show! Don't forget to subscribe on iTunes to get automatic updates when new episodes are available.
If you enjoyed the show, please share it using the social media buttons you see on the left.
Also, it would mean a lot to me if you would leave an honest rating and review on iTunes. Ratings and reviews not only help me serve you better, but they make a huge difference in the show's ranking on iTunes.
If you have any questions you'd like featured on the show, or if you would like to suggest an expert (yourself included!), please let us know HERE.