Using Video to Engage Your Internal Team (Ep. 225)
by TODD HARTLEY, on Mar 18, 2020 8:52:47 AM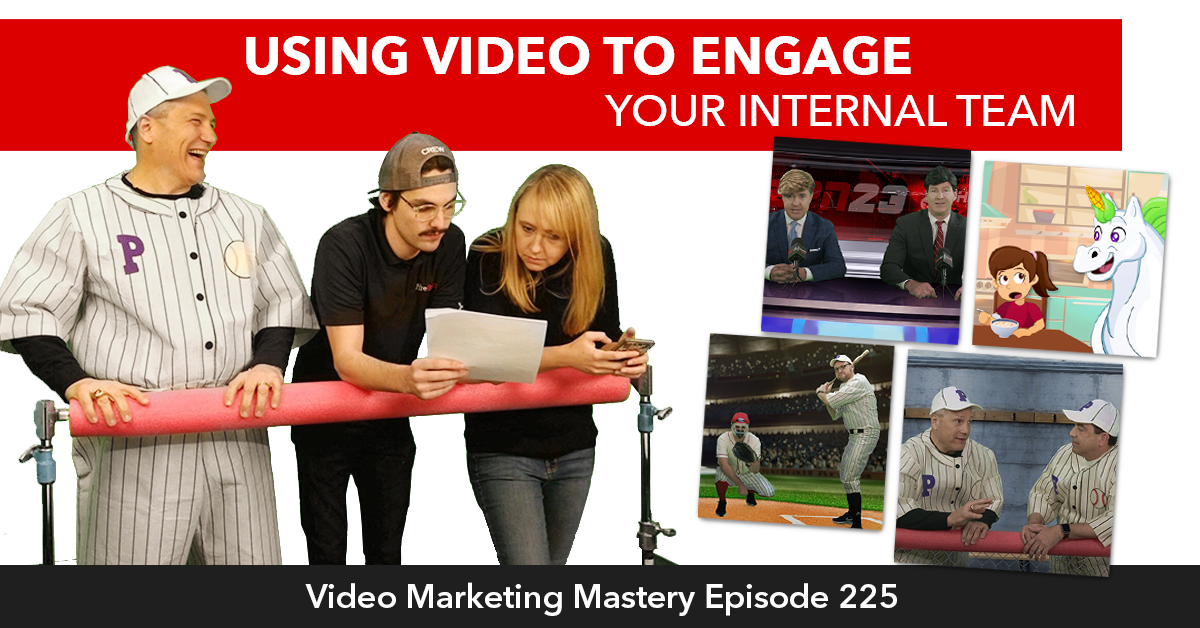 WireBuzz works with many enterprise clients who host a national sales meeting (NSM) during the year.
If you haven't heard of a national sales meeting before, think of it as a gigantic pep-rally where executives and sales leaders bring together their sales team to gain alignment and excitement around marching orders for the coming year, such as new quotas, new products, new market segments, etc.
We have one client in particular who loves to push the creative ceiling for their NSM. In the past, they've done themes around The Brady Bunch, Superheros, and the Wizard of OZ. This year…it was baseball.
To hit a home run for this client, we rented a 4,000-square-foot sound stage with a green screen, punched up the client's script with jokes, and created dozens of special effects in post-production.
When the client premiered the final production at their NSM, the room went crazy. People were especially floored to see their colleagues playing acting roles in the video.
In this episode, the WireBuzz team gathered in the studio for a debrief session to discuss surprising takeaways, what we could've done better, and the most important lessons to learn if you're shooting an internal video for a client.
So press play and tune in to this episode of Video Marketing Mastery!
If you like the show, please leave us an honest rating and review on iTunes. You'd really be helping me out!
NOTE: You can also listen to the episode here, or download the episode to your device (right click and save).
In This Episode, You'll Learn:
Tips for balancing green screen and digital special effects in post-production

How to prepare before a big production the right way so you can execute with minimal setbacks on shoot day

What the WireBuzz team would have done differently to make these shoot even more successful
BEFORE & AFTERS:
Links & Resources
Join the WireBuzz Insider Facebook Group

here

Gain access to our free Video ROI mini-course by signing up

here

How to Choose Profitable Video Topics

worksheet

Pitch us

a question that we can answer in a future podcast episode
Thanks for Listening!
Thanks so much for listening to the show! Don't forget to subscribe on iTunes to get automatic updates when new episodes are available.
If you enjoyed the show, please share it using the social media buttons you see on the left.
Also, it would mean a lot to me if you would leave an honest rating and review on iTunes. Ratings and reviews not only help me serve you better, but they make a huge difference in the show's ranking on iTunes.
If you have any questions you'd like featured on the show, or if you would like to suggest an expert (yourself included!), please let us know HERE.