The Value of Testing and Optimization in Video Marketing (Ep. 59)
by TODD HARTLEY, on Jan 24, 2017 8:27:00 PM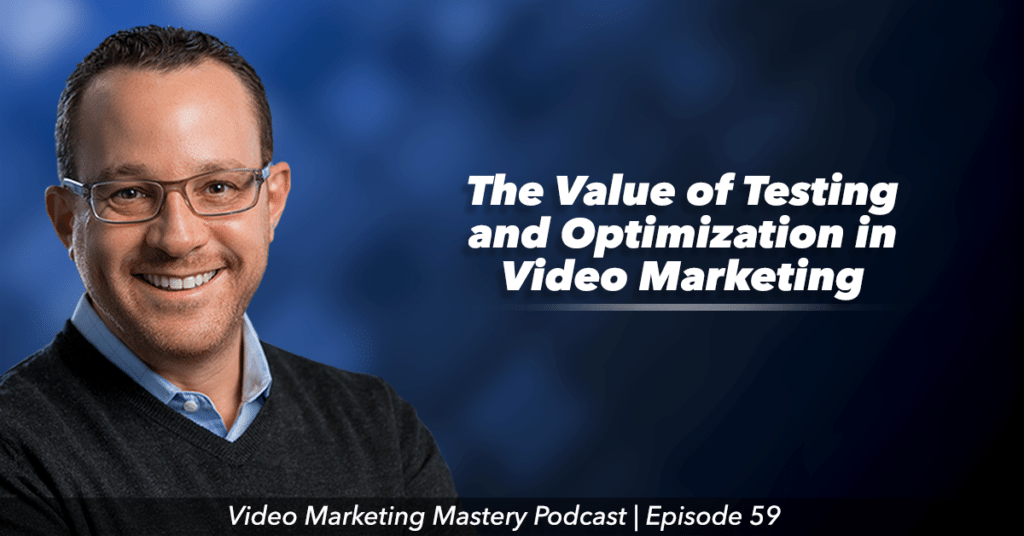 You've probably heard the phrase, "If it ain't broke, don't fix it."
Sure, that's sound advice if it's coming from your mechanic or your plumber…
But what if it's coming from your colleague, or worse, your boss?
Sticking to an outdated rulebook can come at a high price. And even if you're still seeing returns from old methods, ask yourself this: do you really think it'll still work a few years from now?
If you want to maximize ROI and crush the competition, you need to make testing your marketing and sales strategies a priority.
To ensure you understand the importance of optimization, be sure to listen to this episode of Video Marketing Mastery!
If you like the show, please leave us an honest rating and review on iTunes. You'd really be helping me out!
NOTE: You can also listen to the episode here, or download the episode to your device (right click and save).
In This Episode, You'll Learn:
News Update: Once again, a live video user has

self-incriminated herself

by sharing footage that shows her harassing another woman (thanks for the information

@digitalfarm

)

News Update: MarketingProfs explains why

businesses are losing money

when they're sales and marketing goals are misaligned

News Update: Tyler Lessard says

personalized video

is the next big step in video marketing

How to determine the ideal length of your videos

Why I'm more passionate about optimization than I am about video

How I'm using personalized video to land meetings with company decision-makers

Why micro-tests are critical to my optimization process
Links & Resources
Haven't had a chance to listen to last week's episode, where I recap an article written by WireBuzz Copywriter, Colin Noonan? You can listen to the podcast and read

full article here

Do you have video marketing news or a topic idea you'd like to share with me? Tweet me

@TheToddHartley

or let me know at

https://wirebuzz.com/pitch
Thanks for Listening!
Thanks so much for listening to the show! Don't forget to subscribe on iTunes to get automatic updates when new episodes are available.
If you enjoyed the show, please share it using the social media buttons you see on the left.
Also, it would mean a lot to me if you would leave an honest rating and review on iTunes. Ratings and reviews not only help me serve you better, but they make a huge difference in the show's ranking on iTunes.
If you have any questions you'd like featured on the show, or if you would like to suggest an expert (yourself included!), please let us know HERE.