How to Use LinkedIn Video Ads (Ep. 147)
by TODD HARTLEY, on Apr 26, 2018 8:05:00 AM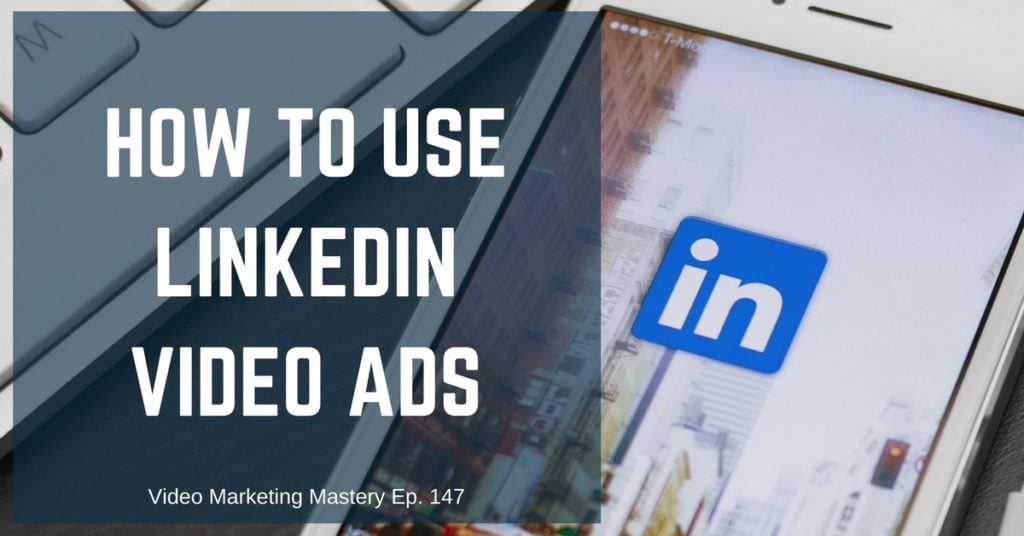 If you've been dreaming of using video to advertise on LinkedIn, your wait is over. LinkedIn Marketing Solutions announced that native video ads will appear directly in LinkedIn's feed.
This is great news because, as we all know, advertising on LinkedIn has been a few years behind.
If you're skeptical about jumping on the video ad train on LinkedIn, don't be. As with most things, early adoption is going to be the only way to succeed. But you can't just throw any old video in an ad and expect conversions.
The only way to create successful video content for LinkedIn's advertising platform is to optimize them for your audience and target the right people.
If you're ready to create powerful video ads that help you succeed right away, tune into this episode of Video Marketing Mastery.
I'll break down video ad metrics, specs, and what you need to know to create your first video ad campaign on LinkedIn right away.
If you like the show, please leave us an honest rating and review on iTunes. You'd really be helping me out!
NOTE: You can also listen to the episode here, or download the episode to your device (right click and save).
In This Episode, You'll Learn:
How I turned one listener into a video marketing powerhouse.

What you can do with LinkedIn video ads.

Why you need awareness about every stage of the sales cycle.

Why the best video marketing campaigns all start with strategy up-front.

How to guarantee your videos generate a return on investment.

What Adweek says

about LinkedIn making in-feed video ads available to all companies soon.

Why video is being shared 20x more than any other content on LinkedIn.

Why LinkedIn claims that sponsored

video posts average triple the time

spent in the news feed.

How LinkedIn video ads can

use any of the targeting already available

to advertisers.

LinkedIn's

video ad tips

.
Links & Resources
Gain access to our free Video ROI mini-course by signing up

here

Pitch us

a question that we can answer in a future podcast episode
Thanks for Listening!
Thanks so much for listening to the show! Don't forget to subscribe on iTunes to get automatic updates when new episodes are available.
If you enjoyed the show, please share it using the social media buttons you see on the left.
Also, it would mean a lot to me if you would leave an honest rating and review on iTunes. Ratings and reviews not only help me serve you better, but they make a huge difference in the show's ranking on iTunes.
If you have any questions you'd like featured on the show, or if you would like to suggest an expert (yourself included!), please let us know HERE.