The Types of Videos That Perform Best on YouTube (Ep. 34)
by TODD HARTLEY, on Aug 2, 2016 2:44:00 AM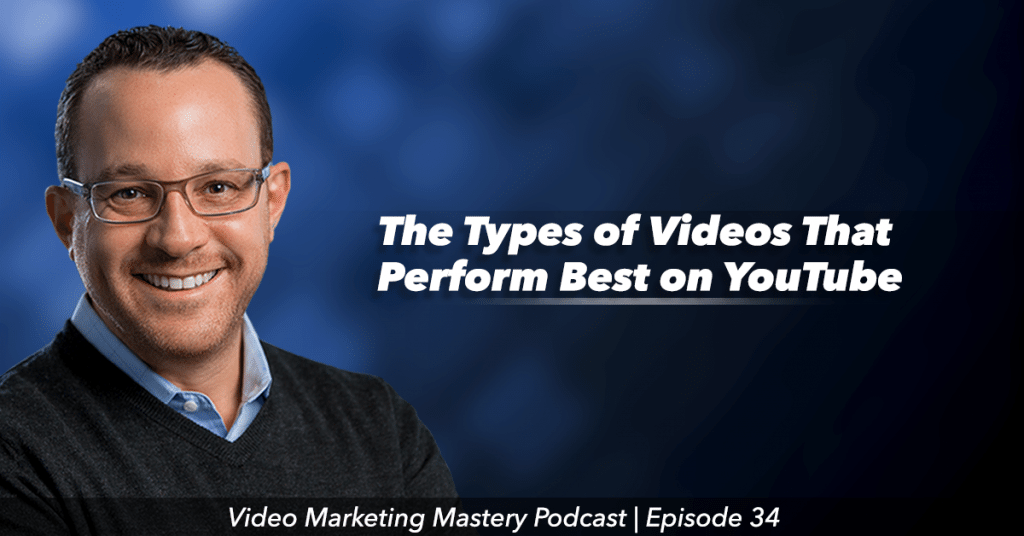 Do you ever look at what's trending on YouTube? If it's not a video about breaking news, it's probably a music video, or a new episode from a popular YouTube channel.
Basically, people want to be entertained. And YouTube knows how to deliver.
So if your business is thinking about making videos for YouTube, you may be wondering how to get started and stand out.
You should be making videos everyone wants to watch…right?
As it turns out, broadcasting doesn't work for most businesses on YouTube — even if you come up with a great idea for an entertaining YouTube video, that kind of content probably won't get people to to buy.
So what does work for businesses on YouTube?
Narrowcasting, or focusing your content on the needs of your target customers. Instead of trying to reach everyone, niche down and be relentlessly helpful.
While it may not net you millions of video views, this strategy works amazingly well for attracting buyers.
Once you know what your target customers need, you're in a much better position to create YouTube content that generates ROI.
In this episode, I'll show you how to determine what types of videos you can make for YouTube that will work best for your business.
Get the show on iTunes: http://apple.co/2aP3KCv
If you like the show, please leave us an honest rating and review on iTunes. You'd really be helping me out!
NOTE: You can also listen to the episode here, or download the episode to your device (right click and save).
[youtube id="XwIFRE2FkIY" align="left" mode="normal" autoplay="no" maxwidth="700" grow="no"]
In This Episode, You'll Learn:
News Update: Facebook announced a new automated video that pulls birthday comments written by friends and can be published the day after your birthday
News Update: After the release of Facebook's second quarterly earnings, Mark Zuckerberg announced that the company will continue to make video an integral part of the platform — find out why
News Update: Last week, dating apps like Tinder and Grindr saw a massive increase in the number of users in Philadelphia, where the Democratic National Convention took place
News Update: The International Olympic Committee is trying to restrict Twitter coverage

of the 2016 games, and is threatening to take legal action against any non-sponsored brands that tweet anything trademarked or related to the games, including photos and hashtags like #Rio2016 or #TeamUSA

What types of content performs best on YouTube for businesses

How to measure the demand of a video you're thinking of creating

How to use relevant videos on YouTube to help you make better content

Why it's valuable to be yourself on YouTube

How to use FAQ's to improve search rankings

How thought leadership videos are different from tutorials — and how to use them correctly
Links & Resources
Sign up for our weekly

email newsletter

to stay up-to-date on WireBuzz's latest content
Thanks for Listening!
Thanks so much for listening to the show! Don't forget to subscribe on iTunes to get automatic updates when new episodes are available.
If you enjoyed the show, please share it using the social media buttons you see on the left.
Also, it would mean a lot to me if you would leave an honest rating and review on iTunes. Ratings and reviews not only help me serve you better, but they make a huge difference in the show's ranking on iTunes.
If you have any questions you'd like featured on the show, or if you would like to suggest an expert (yourself included!), please let us know HERE.