How to Track Your Prospects and Become an Attention Marketer (Ep. 159)
by TODD HARTLEY, on Jun 19, 2018 8:31:00 AM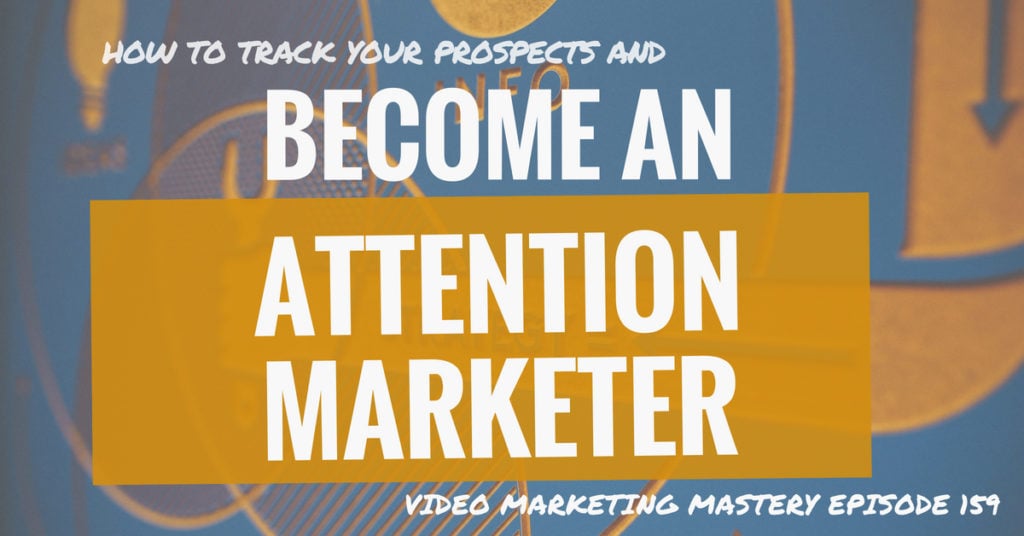 Obviously, I'm a huge advocate of video. But if you don't have measurable goals and a strategy to reach those goals, then what's the point?
Too many companies are creating videos without a strategy, releasing them into the wild and wondering why they aren't seeing tangible results.
I've said it a million times before and I'll say it again, video is the #1 way to accelerate your sales cycle. It's a powerful branding tool and content catalyst, but doing it right is a totally different animal.
When I use video to provide value to people, I position myself as the guru. Because when people view you as the guru, you're guaranteed to see some ROI out of the videos you create. It's as simple as that.
Now, it's important that you understand marketing, open loops, follow-up protocol, and the nuances of creating the greatest videos.
No big deal, right? :)
But that's what I'm here for.
In this episode, you'll learn how to be an attention marketer — moving people from one stage of the buying process to the next and keeping them engaged the entire time.
If you're ready to learn how to move people from Point A to Point Purchase, you need to listen to this episode of Video Marketing Mastery.
If you like the show, please leave us an honest rating and review on iTunes. You'd really be helping me out!
NOTE: You can also listen to the episode here, or download the episode to your device (right click and save).
In This Episode, You'll Learn:
Which conferences I'm attending and speaking at next.

How I closed a deal by going straight to the big boss.

How we decreased 68% of our sales time in a recent deal.

What I'll be testing with

Vidyard

in the near future.

How I make sure that my time is useful.

What "open loops" are and how to use them in your videos.

Why you should consider yourself an "attention marketer."

How I 10x'd my engagement with prospects by doing one really smart thing.

Why it doesn't matter who my competitors are.

Why my audience is CEO's and Executive Directors.

Why you should create content offers that are really valuable to your target audience.
Links & Resources
Gain access to our free Video ROI mini-course by signing up

here

Pitch us

a question that we can answer in a future podcast episode
Thanks for Listening!
Thanks so much for listening to the show! Don't forget to subscribe on iTunes to get automatic updates when new episodes are available.
If you enjoyed the show, please share it using the social media buttons you see on the left.
Also, it would mean a lot to me if you would leave an honest rating and review on iTunes. Ratings and reviews not only help me serve you better, but they make a huge difference in the show's ranking on iTunes.
If you have any questions you'd like featured on the show, or if you would like to suggest an expert (yourself included!), please let us know HERE.