Behind the Scenes of Todd's Career in Talk Radio (Ep. 100)
by TODD HARTLEY, on Jul 5, 2017 1:11:00 AM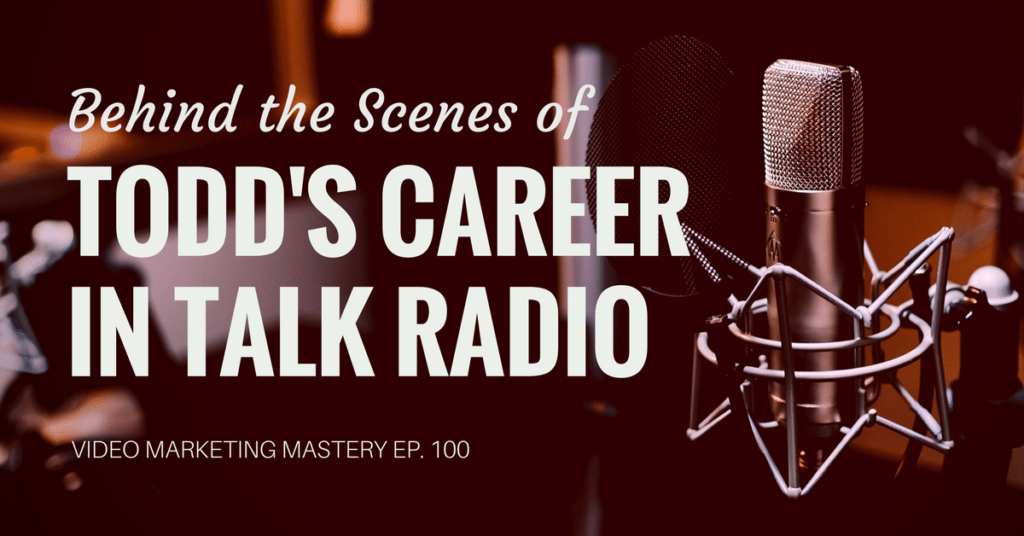 Before I was "the video guy," I spent a number of years behind the mic in talk radio.
Those years taught me a lot about connecting with an audience and digging into a story to get to the heart of what really matters — both of which help me every day as a digital marketer.
My years in radio didn't just pave the way for me to become a digital marketer, though. I also got to work alongside and learn from some of the top names in talk radio.
And none influenced my career more than Charles Goyette.
Charles was the host (and my partner-in-crime) for Arizona's #1 talk show, where we would "boldly go where no other talk show had gone before."
I've never met anyone who could peel back the layers of a developing story like Charles, which is why we were able to unravel five of the biggest scandals in the history of Arizona.
I want to pull back the curtain and give you a raw, honest look at my years working as an investigative reporter.
In this episode, Charles joins me as a special guest to take you behind the scenes of our dangerous days working together on Arizona's #1 talk show.
If you like the show, please leave us an honest rating and review on iTunes. You'd really be helping me out!
NOTE: You can also listen to the episode here, or download the episode to your device (right click and save).
In This Episode, You'll Learn:
Todd's dangerous days working with Charles Goyette on Arizona's #1 talk show in Arizona for 4 years

How Todd & Charles broke the story about Sheriff Joe Arpaio's "potty cams"

What Todd and Charles uncovered in Florida while covering the 2000 Presidential Election

How Todd & Charles broke the news of who the new president would be 7 hours before CNN made the announcement

What kind of a role Todd & Charles played in deciding the location of the Arizona Cardinals' new stadium

Brand new topics we'll be covering on future episodes of the podcast
Links & Resources
Todd & Charles recording the podcast in the studio:
Thanks for Listening!
Thanks so much for listening to the show! Don't forget to subscribe on iTunes to get automatic updates when new episodes are available.
If you enjoyed the show, please share it using the social media buttons you see on the left.
Also, it would mean a lot to me if you would leave an honest rating and review on iTunes. Ratings and reviews not only help me serve you better, but they make a huge difference in the show's ranking on iTunes.
If you have any questions you'd like featured on the show, or if you would like to suggest an expert (yourself included!), please let us know HERE.