Thought Sequences: How To Teach Prospects About Your Product (Ep. 62)
by TODD HARTLEY, on Feb 14, 2016 9:13:00 PM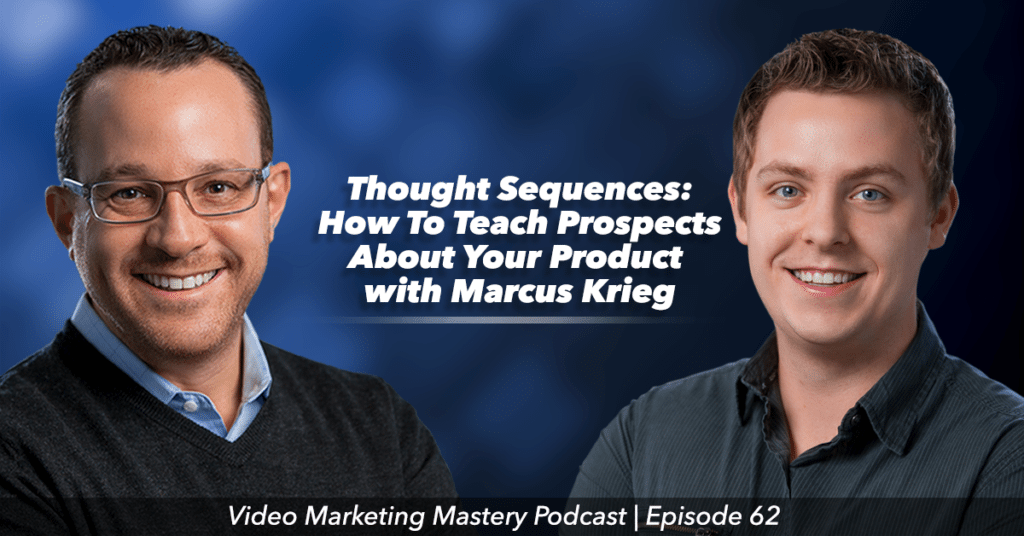 Consumers don't want to talk to your sales team anymore.
They don't want your sales team to interfere with their buyer's journey. At least, not until they've done their own research.
In fact, most people don't want to speak with a sales rep until they've reached the "consideration stage," and many more would prefer to avoid your sales team entirely.
So how do you guide prospects towards a buying decision, without having a one-on-one conversation?
Because if you want to sell your product to your more "introverted" prospects, then you're going to need to provide content on your website that enables them to make educated buying decisions on their own.
In other words, you need to "clone" your sales person's best pitch using content, then share that content using your website, advertising, and email marketing to bring prospects through the ideal "thought sequence" so they'll buy your product.
To discuss this topic, I'm joined by Marcus Krieg, who explains what thought sequences are, and how to use them to effectively teach prospects about your product.
You won't want to miss this conversation about using video to move buyers through your sales process!
If you like the show, please leave us an honest rating and review on iTunes. You'd really be helping me out!
NOTE: You can also listen to the episode here, or download the episode to your device (right click and save).
In This Episode, You'll Learn:
News Update: Twitter's stock took another hit, but CEO Jack Dorsey believes that there's still hope for the social media platform
News Update: Facebook is shutting down the 200 Oculus Rift VR demo stations in Best Buys all across the country
How to sell to prospects when they don't want to be a part of your traditional sales cycle
Why people don't want to speak to your sales team anymore

How to make your business more transparent to build trust with your client

What to do if you have an inexperienced sales team that haven't optimized the buyer's journey

How to use copywriting frameworks to sell your products or services

Why your thought sequences depend on a unified sales and marketing team

Why your website's design is critical to your prospects' thought sequences

How to make your product a priority in the eyes of your prospects

What the biggest information gaps that leads find frustrating when making a buying decision

How to use video's four superpowers to make your sales funnel more effective

Why it's important to know who your best customer is

How thought sequences relate to different types of sales organizations
Links & Resources
Thanks for Listening!
Thanks so much for listening to the show! Don't forget to subscribe on iTunes to get automatic updates when new episodes are available.
If you enjoyed the show, please share it using the social media buttons you see on the left.
Also, it would mean a lot to me if you would leave an honest rating and review on iTunes. Ratings and reviews not only help me serve you better, but they make a huge difference in the show's ranking on iTunes.
If you have any questions you'd like featured on the show, or if you would like to suggest an expert (yourself included!), please let us know HERE.