They Ask, You Answer: How to Create Content That Drives Sales with Marcus Sheridan (Ep. 101)
by TODD HARTLEY, on Jul 11, 2017 1:13:00 AM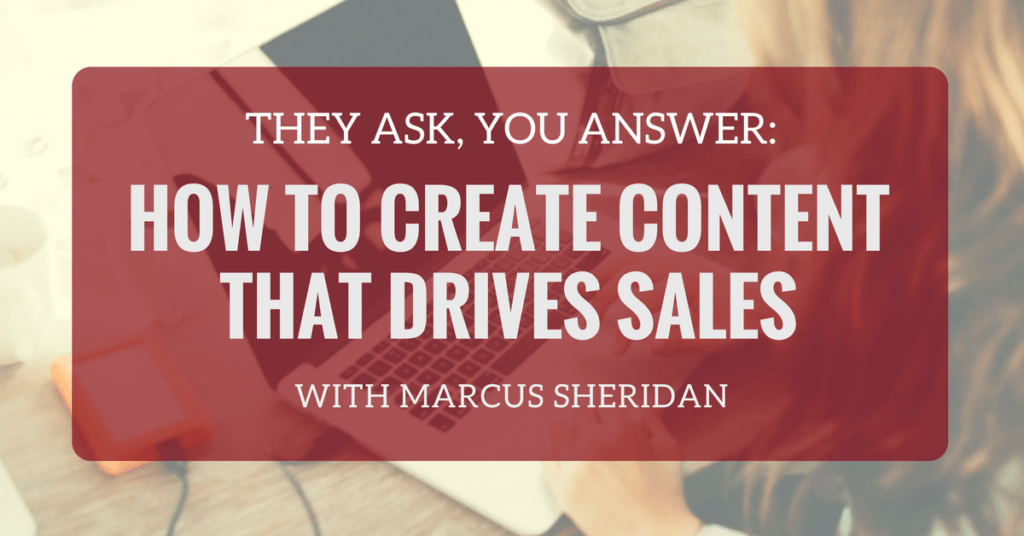 It used to be if you wanted to make a purchase or do business with someone, you would have to get on the phone or meet with a sales rep.
But it's 2017, and the ways in which we prefer to make a buying decision has drastically changed.
Customers are bypassing your sales team and doing their own research on their own time. They don't want to be hassled by a sales rep; they'd rather read reviews, browse your website, and search YouTube to get their questions answered.
In fact, most customers don't want to deal with a salesperson until they have to make a purchase.
Now more than ever, the buyer is in control of the sales process, not the salesperson. Today, a smooth buyers journey is paved with content (at least for businesses that adapt), and if you want to get more customers to the finish line sooner, video is the way to go.
If there's anyone who understands the role and value of content in the sales process, it's Marcus Sheridan. You might know him as The Sales Lion, but to me, he's the king of using content to build trust and drive sales.
That's why I've invited him to join me again on the podcast to talk about how buying habits have changed, and how smart businesses are using content — not sales people — to sell their products or services.
Tune in to hear how your business can use the most powerful sales tool to pave the way for your customers — video!
If you like the show, please leave us an honest rating and review on iTunes. You'd really be helping me out!
NOTE: You can also listen to the episode here, or download the episode to your device (right click and save).
In This Episode, You'll Learn:
How video helps you answer questions and overcome customer objections before a salesperson is involved

Why honesty and transparency with pricing helps more people want to do business with you

Why Marcus believes video is the "rising tide that's going to happen"

Why the future points to 80% of learning done through the buyers journey being done through video

The power and importance of showing what makes you different, not just telling

Why buyers now control the sales process, and how to meet them where they are

How to leverage video in the sales process before you meet a prospect face-to-face

Why your prospects should see, hear, and know you before you ever see, hear, or know them

Why both sales and marketing need to be involved in the content production process

The reason Marcus will not work with a new client until they read

his book

How to not let your own opinion interfere with making a smart business decision

How to get started with creating content around your customer's journey
Links & Resources
Thanks for Listening!
Thanks so much for listening to the show! Don't forget to subscribe on iTunes to get automatic updates when new episodes are available.
If you enjoyed the show, please share it using the social media buttons you see on the left.
Also, it would mean a lot to me if you would leave an honest rating and review on iTunes. Ratings and reviews not only help me serve you better, but they make a huge difference in the show's ranking on iTunes.
If you have any questions you'd like featured on the show, or if you would like to suggest an expert (yourself included!), please let us know HERE.