The 9 Types of Videos Every Business Needs (Ep. 296)
by TODD HARTLEY, on Oct 29, 2020 11:52:52 AM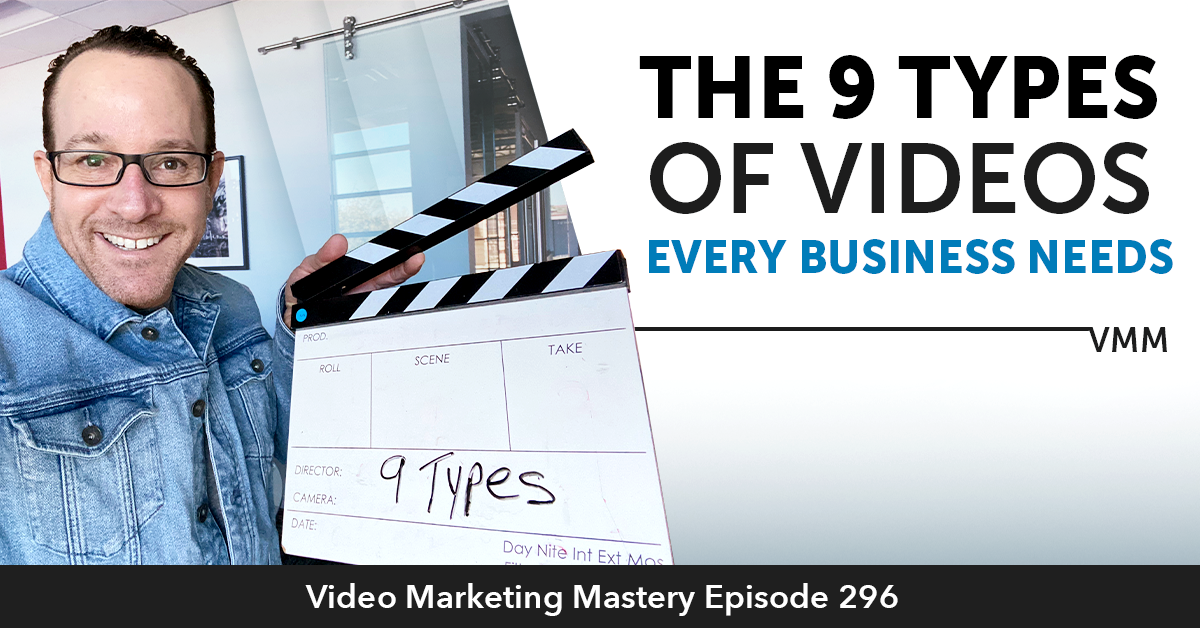 We've spent a lot of time on this podcast over the last 5 years getting really tactical on how to leverage video to speed up your sales progress.
But this podcast has been growing tremendously, so I wanted to take a couple of steps back, and introduce you to the types of videos every business needs:
Explainer Video: Give prospect a high level overview of your business

How-To Video: Teach prospect about something they'd commonly ask

Promo Videos: Good for brand and product awareness and lead generation

Thought Leadership Videos: Give out free information to demonstrate credibility

Webinars and Recorded Webinars: Teach something valuable with a CTA to upsell

Case Study Videos: Customer stories or testimonial videos validate your offering

Company Culture Videos: Showcase your company in action for recruiting

Demo Videos: Help buyers justify their decision to purchase by showing value

Personalized Videos: When a red flag appears from prospect, respond with a 1:1 video
I've included links to examples for each of these videos in the show notes under resources. I'll also tell you how to use these videos and where to put them on your website. In addition, I explain how I personally use these videos for my company and why they work.
If you want to start using video to accelerate sales, develop relationships with prospects, and provide massive value to clients - this episode is for you. Make sure to take notes for this one because I'm about to drop some massive knowledge bombs!
---
If you like the show, please leave us an honest rating and review on iTunes. You'd really be helping me out!
NOTE: You can also listen to the episode here, or download the episode to your device (right click and save).
In This Episode, You'll Learn:
What kind of videos you need to use for your business

How each video works and what it accomplishes

Where to place the video on your website or elsewhere

When to use each type of video to reach your goals
Links & Resources
Thanks for Listening!
Thanks so much for listening to the show! Don't forget to subscribe on iTunes to get automatic updates when new episodes are available.
If you enjoyed the show, please share it using the social media buttons you see on the left.
Also, it would mean a lot to me if you would leave an honest rating and review on iTunes. Ratings and reviews not only help me serve you better, but they make a huge difference in the show's ranking on iTunes.
If you have any questions you'd like featured on the show, or if you would like to suggest an expert (yourself included!), please let us know HERE.