Why Your Target Customers Prefer Video, Even If You Think They Don't (Ep. 41)
by TODD HARTLEY, on Sep 20, 2016 5:18:00 AM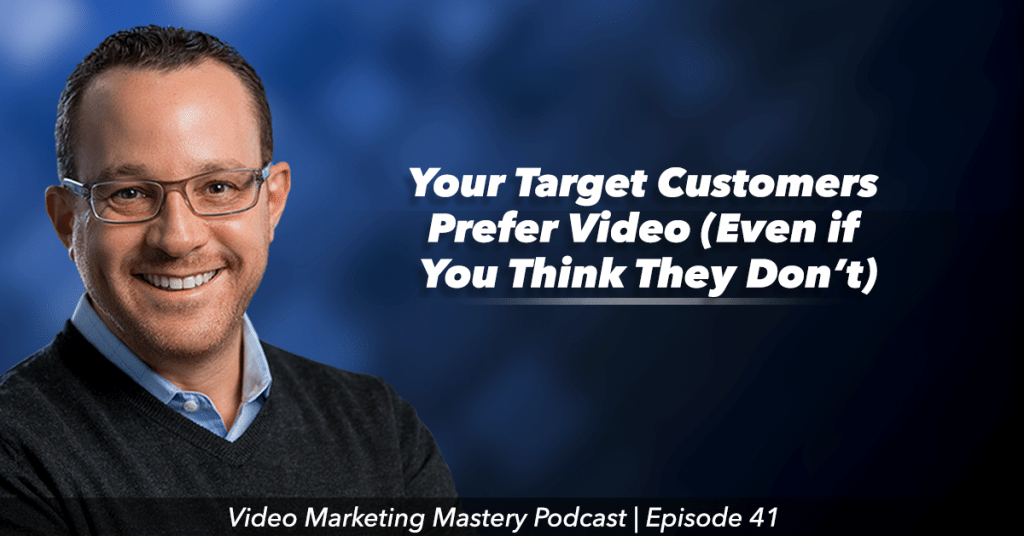 Facebook and Twitter both believe that the future of digital content will heavily rely on video.
Why?
Because that's what ALL the data shows.
Yet, some marketers still make the argument that their target customers aren't interested in video.
For example, many point out that they have an "older demographic," implying that older people prefer reading to watching video. This is a false assumption.
The reality is, we're not all that different from one another. The data is clear: when you have access to the online behavior patterns of ⅓ of the world's population — and they're favoring video across the board — then you can bet that the other 5 billion other people also prefer watching a video to reading text.
Just because they're not on Twitter, Facebook, or YouTube doesn't mean that your target customers are completely different from the rest of us. Our brains are all wired in surprisingly similar ways, so no matter how unique or unusual you think your target customer is, chances are they still like watching videos.
Still not convinced? Give this episode a listen!
Get the episode on iTunes: http://apple.co/2djCtcj
If you like the show, please leave us an honest rating and review on iTunes. You'd really be helping me out!
NOTE: You can also listen to the episode here, or download the episode to your device (right click and save).
In This Episode, You'll Learn:
News Update: 80% of people can recall a video advertisement that they've seen in the past 30 days
News Update: Adobe is releasing Adobe Analytics for Video, allowing marketers to gauge and illustrate video performance
News Update: Twitter has launched live streaming video apps for Apple TV, Amazon Fire TV and Xbox One
News Update: Can you guess how much the man who shot the footage of Hillary Clinton fainting is set to make on that single video?
News Update: Twitter creating more monetization opportunities with video and increasing incentives for video creators to make more and better videos
Why your target customers have no problem with video (it's just your own hesitation)
The 8 emotions that drive content engagement
About the live event we recorded in Reno, Nevada for one of our rockstar clients, 23andMe
Links & Resources
Thanks for Listening!
Thanks so much for listening to the show! Don't forget to subscribe on iTunes to get automatic updates when new episodes are available.
If you enjoyed the show, please share it using the social media buttons you see on the left.
Also, it would mean a lot to me if you would leave an honest rating and review on iTunes. Ratings and reviews not only help me serve you better, but they make a huge difference in the show's ranking on iTunes.
If you have any questions you'd like featured on the show, or if you would like to suggest an expert (yourself included!), please let us know HERE.