How Samsung Is Problem-Solving with Video (ep. 66)
by TODD HARTLEY, on Mar 7, 2017 9:30:00 PM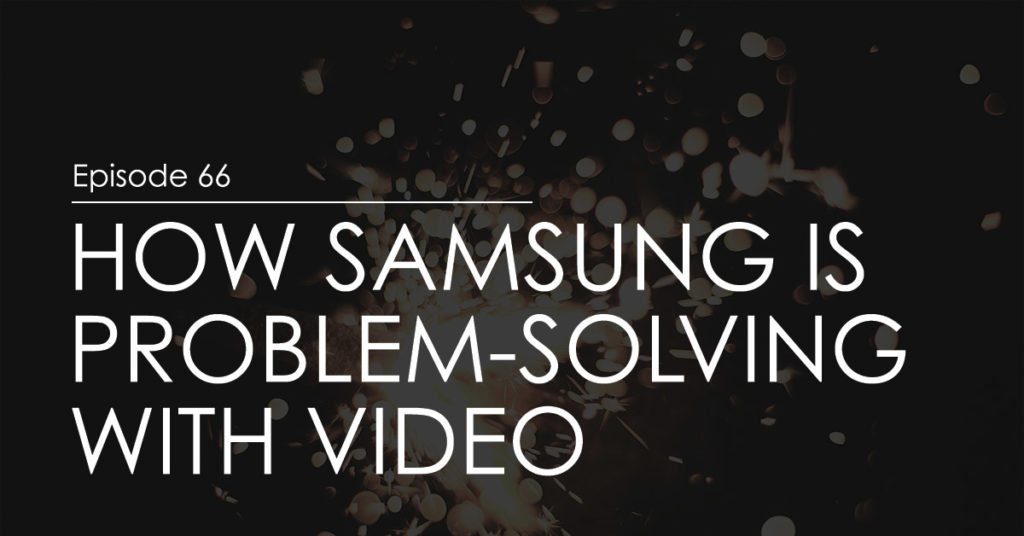 In 2016, Samsung got a lot of heat… literally.
Last year, their Galaxy Note 7 had a serious problem. The battery was prone to overheating, to the point where some of the phones were exploding.
Of course, they issued a recall of 2.5 million phones and replaced them with "safer" batteries that also caught fire.
These phones weren't allowed on planes, they caused physical harm to some of their customers, and the fiasco cost Samsung over $22 billion dollars.
Even worse, their reputation tanked. The latter half of 2016 was nothing but damaging press coverage for the tech giant. And without a doubt, they've lost some customers for good.
But you might be wondering, what does this have to do with video marketing?
Well, Samsung's brilliant new video campaign is attacking their PR monsters head-on.
Instead of trying to sweep the whole ordeal under the rug, and hope that time heals all wounds, Samsung is using video to introduce their renewed "commitment to quality" and what they're doing to win consumer trust back.
In this week's podcast, Marcus joins me to explain Samsung's video strategy and how you can emulate it.
Be sure to listen in and take a look at some examples of Samsung's campaign in the Links and Resources section below!
If you like the show, please leave us an honest rating and review on iTunes. You'd really be helping me out!
NOTE: You can also listen to the episode here, or download the episode to your device (right click and save).
In This Episode, You'll Learn:
News Update: find out why Facebook is rolling out video ads that

autoplay

with sound

, and why it's a big mistake

News Update: Facebook is working with the

MLB to stream

one game each week this season and 46 matches of the Mexican Soccer league this year

News Update: In 2016, Twitter lost $400 million, but they believe live video can turn it around (

find out why

)

Twitter, Facebook, and YouTube are all trying to keep visitors on their platforms longer, and you should be doing the same. Find out how in this episode

News Update:

Snap Spectacles

are now available to the public

News Update: Vidyard is taking a big initiative towards

educating businesses

on how to use video as sales enablement content

How Samsung is using

video

to regain trust after their Galaxy phone battery fiasco

What "problem content" is, and how to use it to your advantage

How to use video to

show

what you're doing differently from your competitors, and ultimately win them over

Why Samsung's Casey Neistat was a brilliant move

How simplifying your scripts can help persuade your video viewers

The right way to use advertising on YouTube (and how Samsung nailed it)

Why incorporating "key opinion leaders" or "influencers" is a value ad,

not

a silver bullet
Links & Resources
Watch my Thank You video to the UofA's SALT Center.
Fox News is doing it right when it comes to video autoplay! Take a look in the bottom right corner.
Here's a photo of Wendy and I with Shark Tank investor, Daymond John.
Check out baseball legend, Johnny Bench, wearing Google Glass!
Watch Samsung's two "Commitment to Quality" videos below.
Watch Samsung's Casey Neistat video below.
Thanks for Listening!
Thanks so much for listening to the show! Don't forget to subscribe on iTunes to get automatic updates when new episodes are available.
If you enjoyed the show, please share it using the social media buttons you see on the left.
Also, it would mean a lot to me if you would leave an honest rating and review on iTunes. Ratings and reviews not only help me serve you better, but they make a huge difference in the show's ranking on iTunes.
If you have any questions you'd like featured on the show, or if you would like to suggest an expert (yourself included!), please let us know HERE.