7 Clever Ways to Inject Your Sales Message Into Helpful Content (Ep. 89)
by TODD HARTLEY, on May 30, 2017 11:11:00 PM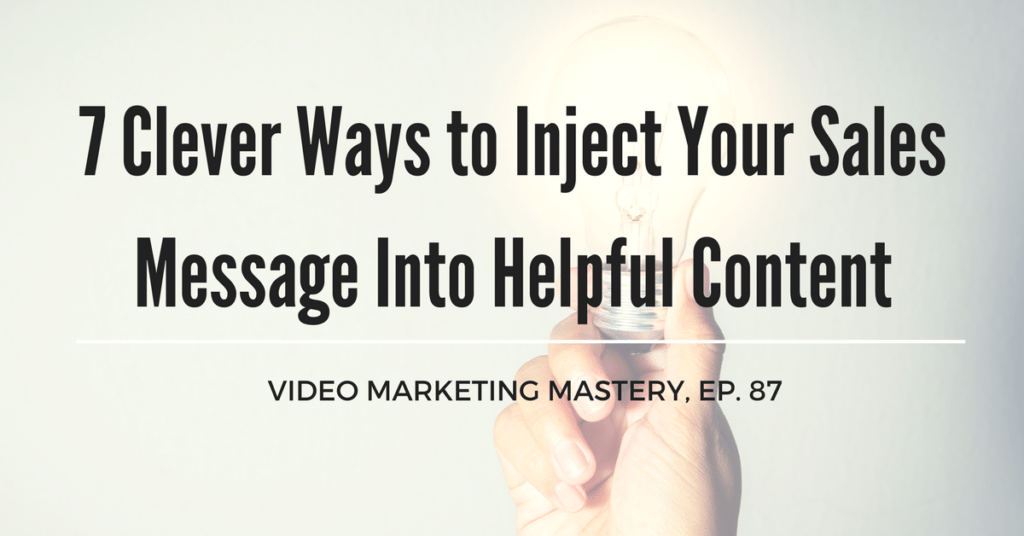 We totally get it…
You've spent a ton of time, energy, and money developing a great product or service. And if you're like most companies, you're eager to get the word out.
But when you jump straight to the sale, you're often setting yourself up for failure.
Even prospects that are close to a buying decision can be turned off by a hard sell. So if you want to make the most of their hard-won attention, you need to guide your prospect to the finish line.
And the best way to accomplish that is to be relentlessly helpful. Offer useful information every step of the way, so that when they're ready to purchase, they'll come directly to you.
But we know this is easier said than done. So I've asked Marcus to join me in explaining how to inject your sales message into helpful content your prospects actually want to consume.
If you're struggling to get prospects to pay attention to your sales message, this is an episode you won't want to miss!
If you like the show, please leave us an honest rating and review on iTunes. You'd really be helping me out!
NOTE: You can also listen to the episode here, or download the episode to your device (right click and save).
In This Episode, You'll Learn:
How to warm up your prospects with helpful content before going for the pitch

Why you need to demonstrate value before asking for something

Why you want to give away your best ideas for free

What types of content you can create to support your sales message

Why mini-courses are great for teaching your methodology

How to raise awareness about an issue in your industry, and then give them the answer

How to bring your prospects from problem-aware to problem-unaware

When to teach your audience how to DIY their own solution

Why it's helpful to explain how you discovered your own solution

How to teach your audience by using your business as an example
Links & Resources
Gain access to our free Video ROI mini-course by signing up

here

Find out how WireBuzz 10X engagement with our ROI mini-course
Learn how I solved my own problem with delivering scripts in the video below!
Thanks for Listening!
Thanks so much for listening to the show! Don't forget to subscribe on iTunes to get automatic updates when new episodes are available.
If you enjoyed the show, please share it using the social media buttons you see on the left.
Also, it would mean a lot to me if you would leave an honest rating and review on iTunes. Ratings and reviews not only help me serve you better, but they make a huge difference in the show's ranking on iTunes.
If you have any questions you'd like featured on the show, or if you would like to suggest an expert (yourself included!), please let us know HERE.
Videos are like meals: if you only serve your audience bite-sized video content time and time again, they'll leave hungry and unfulfilled.