How to Recognize and Capitalize From Developing Market Trends (Ep. 153)
by TODD HARTLEY, on May 30, 2018 8:18:00 AM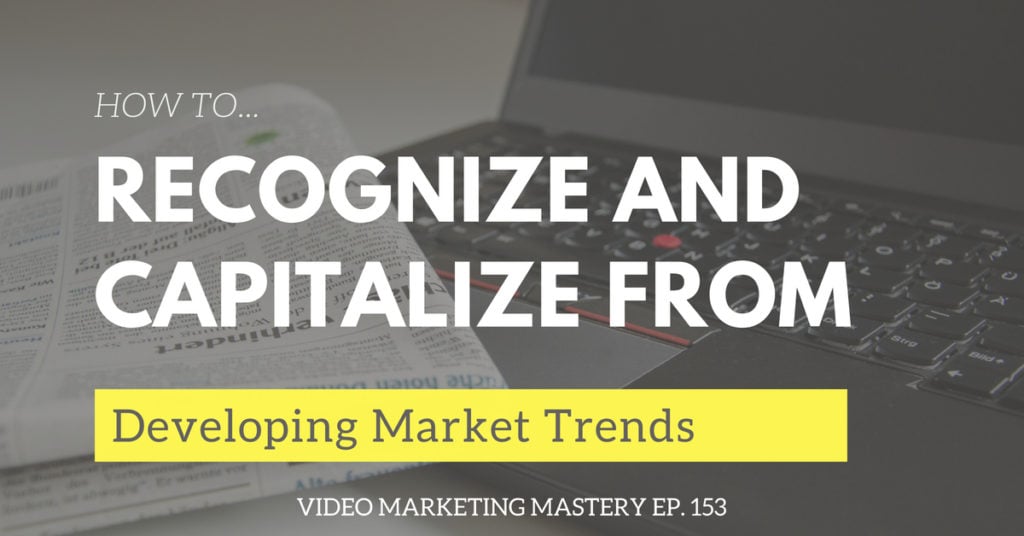 In today's market, if you sit still (even for a moment), you die.
Let me explain.
The market is moving so fast in nearly every industry that staying on top of trends and learning from them has become paramount to survival.
Many companies will stick with things that are working and forget to stay open-minded and innovative. If it ain't broke, don't fix it, right? Wrong.
A quick scan of the news surrounding digital marketing and you'll realize that things are changing all over the place.
If you think that these changes don't apply to you, you're going to have a rude awakening when you realize you're too far behind to catch up.
In this episode of Video Marketing Mastery, I'm going to deliver a lot of news from a lot of industries. You need to be paying attention to news from a variety of industries and then apply it to your business.
When other companies are looking toward the future, that's your opportunity to evaluate what they're doing, think outside of the box use it to drive your business forward.
If you're ready to learn how to stay ahead of trends and use them to thrive in your industry, then you don't want to miss this episode of Video Marketing Mastery.
If you like the show, please leave us an honest rating and review on iTunes. You'd really be helping me out!
NOTE: You can also listen to the episode here, or download the episode to your device (right click and save).
In This Episode, You'll Learn:
Links & Resources
Gain access to our free Video ROI mini-course by signing up

here

Pitch us

a question that we can answer in a future podcast episode
Thanks for Listening!
Thanks so much for listening to the show! Don't forget to subscribe on iTunes to get automatic updates when new episodes are available.
If you enjoyed the show, please share it using the social media buttons you see on the left.
Also, it would mean a lot to me if you would leave an honest rating and review on iTunes. Ratings and reviews not only help me serve you better, but they make a huge difference in the show's ranking on iTunes.
If you have any questions you'd like featured on the show, or if you would like to suggest an expert (yourself included!), please let us know HERE.