How to go From a One Man Band to a Video Production Army (Ep. 156)
by TODD HARTLEY, on Jun 9, 2018 8:25:00 AM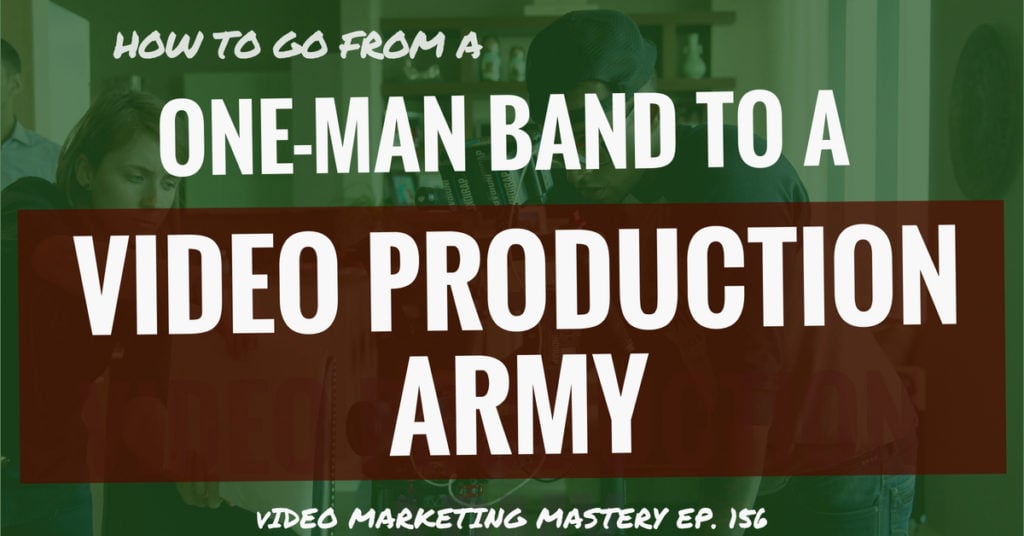 A one-man band video production company is all about the hustle and grind. When it comes to video, doing it all by yourself is hard and something usually suffers, whether it's the quality of the video, the administration part of your business or your own personal time.
Most of us start out as a one-man band production, but there usually comes a point when growing your video production team becomes inevitable.
But growing your video production team isn't as easy as it sounds. You've got to find the right talent, understand how much to charge and figure out what the right pace for growth is for your company.
Plus, you've got to consider the type of equipment to use, the proper dress attire, and whether you'll have makeup artists on set or not.
The good news is that you don't have to do everything at once. Growth is a process, you just need to understand which things to do first and how to scale at a pace that works for you.
In this episode, I speak with Jeff Harrison from Swing Point Media to provide our growth tips and marketing secrets.
If you're ready to transition from one man band to growing company, you don't want to miss this episode of Video Marketing Mastery.
If you like the show, please leave us an honest rating and review on iTunes. You'd really be helping me out!
NOTE: You can also listen to the episode here, or download the episode to your device (right click and save).
In This Episode, You'll Learn:
Why scaling is one of the most difficult parts of owning a business.

If there's any value to being a one-man band in video production.

How to make the transition from one man band to a production team.

The number one tip for shooting with multiple cameras.

Why anyone who represents your brand should have a dress code.

Why you should price by value, not hours.

How to account for the depreciation of your equipment.

Why video is the power tool that moves people through the customer journey.

Why the effectiveness of your content is all about hyper-relevance.

Why you have to hire people who are more talented and smarter than you.

How to make the leap to grow your business?
Links & Resources
Gain access to our free Video ROI mini-course by signing up

here

Pitch us

a question that we can answer in a future podcast episode
Thanks for Listening!
Thanks so much for listening to the show! Don't forget to subscribe on iTunes to get automatic updates when new episodes are available.
If you enjoyed the show, please share it using the social media buttons you see on the left.
Also, it would mean a lot to me if you would leave an honest rating and review on iTunes. Ratings and reviews not only help me serve you better, but they make a huge difference in the show's ranking on iTunes.
If you have any questions you'd like featured on the show, or if you would like to suggest an expert (yourself included!), please let us know HERE.