How to Leverage a Sniper's Mind to Get Better Results (Ep. 158)
by TODD HARTLEY, on Jun 14, 2018 8:28:00 AM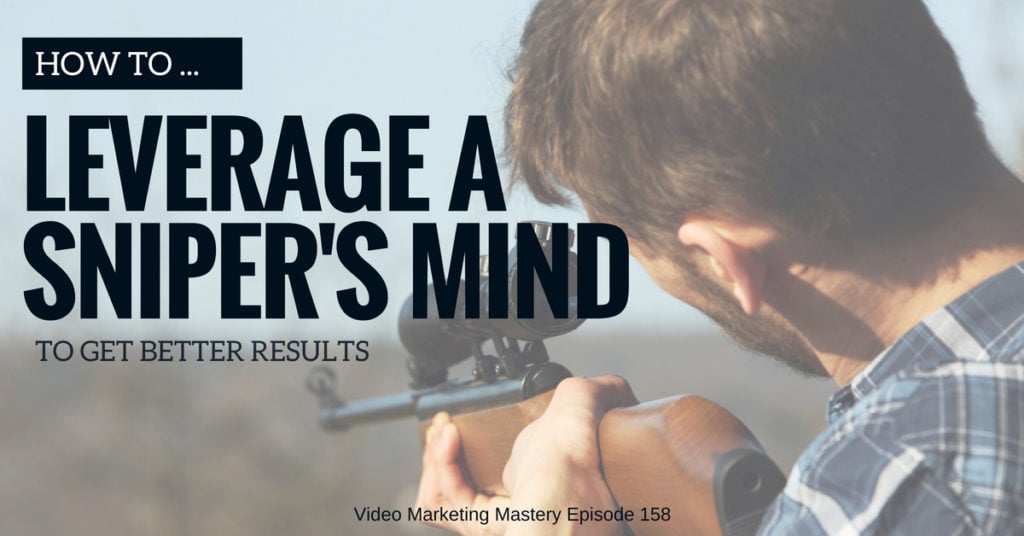 What do snipers and digital marketers have in common? A lot more than you might think.
In this episode of Video Marketing Mastery, I sit down with David Amerland, author of The Sniper Mind. He's an international speaker, author, and business journalist who has unique experiences and perspectives that digital marketers can learn from.
A big mistake that I see digital marketers commit is launching a campaign without having a clear strategy behind it. That's like going into battle without a plan of attack.
Another overlooked aspect of digital marketing is the emotional space. Things like focus, discipline, and priority settings. Snipers know a lot about this.
But the analogy drawing doesn't end there. Both snipers and digital marketers need a great deal of situational awareness. They need to be organized, deliberate, responsible, empathetic, and intentional.
And we aren't just listing out a dictionary's worth of attributes here. Each of these qualities apply to both snipers and digital marketers. The bottom line is that we can learn from the most highly trained and focused people on the planet.
So if you're ready to zero in on your digital marketing strategy with the focus of a sniper, you don't want to miss this episode of Video Marketing Mastery.
If you like the show, please leave us an honest rating and review on iTunes. You'd really be helping me out!
NOTE: You can also listen to the episode here, or download the episode to your device (right click and save).
In This Episode, You'll Learn:
What's going on around WireBuzz and what we're involved with right now.

Why the person who creates the video needs to understand the native landscape that it lives in.

Why being a great marketer has a sniper's mind and is very deliberate

.

Why emotion is how we prioritize our to-do list.

The emotional space that snipers use and digital marketers need to be aware of.

The key takeaways digital marketers can learn from reading

"The Sniper Mind."
Links & Resources
Thanks for Listening!
Thanks so much for listening to the show! Don't forget to subscribe on iTunes to get automatic updates when new episodes are available.
If you enjoyed the show, please share it using the social media buttons you see on the left.
Also, it would mean a lot to me if you would leave an honest rating and review on iTunes. Ratings and reviews not only help me serve you better, but they make a huge difference in the show's ranking on iTunes.
If you have any questions you'd like featured on the show, or if you would like to suggest an expert (yourself included!), please let us know HERE.