What You Can Learn from the Rise of Video Streaming (Ep. 78)
by TODD HARTLEY, on Apr 19, 2017 10:24:00 PM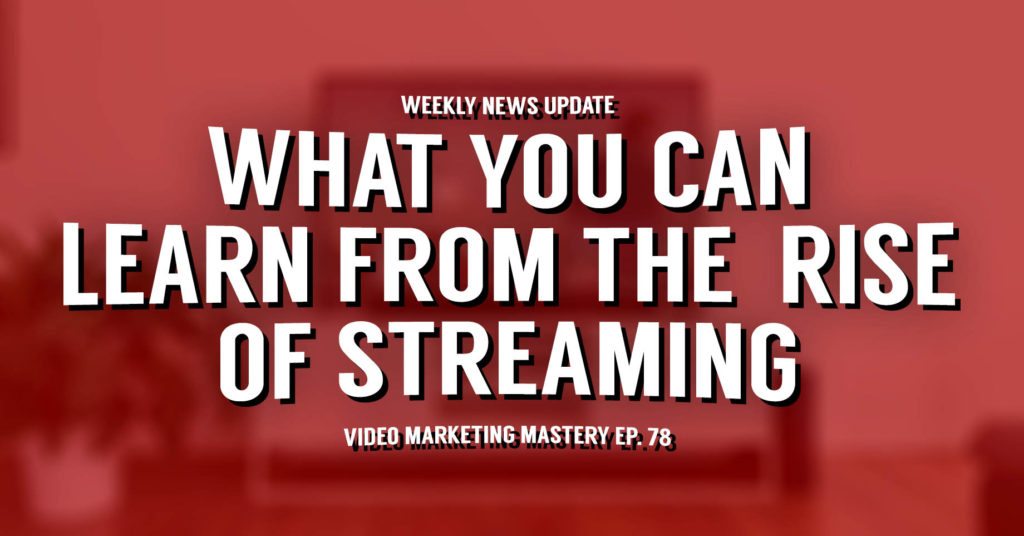 There's been a huge turnover in industry leaders in a very short amount of time. Instead of Blockbuster, we now stream movies and shows on Netflix. People are using Uber instead of calling a cab. Even big hotel chains are playing second fiddle to Airbnb.
So how are these multibillion dollar companies losing customers to rapidly growing startups? With such large budgets, how did they miss the mark and fail to keep up?
They made the mistake of getting comfortable, relying on the status quo to maintain their success. And now, even businesses that you wouldn't expect to be easily affected by the advances in technology are seeing tough competition.
That's why it's important to stay on top of marketing and business news every single week. It's important to learn from today's big fish like Google and Facebook, who know that the next obstacle is just around the corner and the fight to stay on top is never over.
So tune into this week's podcast to hear the latest news in tech, social media, and video marketing!
If you like the show, please leave us an honest rating and review on iTunes. You'd really be helping me out!
NOTE: You can also listen to the episode here, or download the episode to your device (right click and save).
In This Episode, You'll Learn:
Links & Resources
Here's a photo I took of Jay Leno's security team helping him get into a tiny Fiat!
Here's a view of Jimmy Kimmel Live across the street from the conference I spoke at.
Below is a photo of the 5-time boxing champion, Sugar Ray Leonard, speaking at the American Gem Society!
Thanks for Listening!
Thanks so much for listening to the show! Don't forget to subscribe on iTunes to get automatic updates when new episodes are available.
If you enjoyed the show, please share it using the social media buttons you see on the left.
Also, it would mean a lot to me if you would leave an honest rating and review on iTunes. Ratings and reviews not only help me serve you better, but they make a huge difference in the show's ranking on iTunes.
If you have any questions you'd like featured on the show, or if you would like to suggest an expert (yourself included!), please let us know HERE.