The Power of Intention in Video Marketing (Ep. 88)
by TODD HARTLEY, on May 24, 2017 11:09:00 PM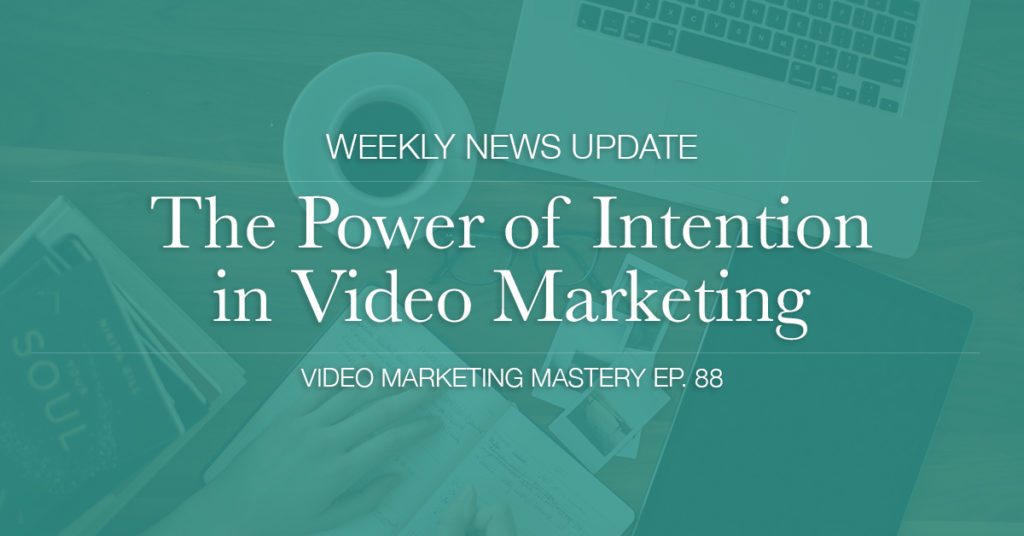 Believe it or not, there's something more valuable to marketers than "attention."
Sure, you're always trying to reach new audiences and re-engage our customers. And by now, you already know that video is the best way to do that.
But if you really want to see phenomenal results, you have to consider your intentions first.
At the end of the day, the best copy, the most cinematic footage, and the coolest special effects aren't going to produce value if your intentions weren't clear to begin with.
So before you begin anything — whether it's executing your next video project or starting your own business — make sure you're setting smart goals and are intentional about your sales and marketing priorities.
To learn more about the power of intention, as well as the latest news in social and video marketing, be sure to listen to this podcast episode!
If you like the show, please leave us an honest rating and review on iTunes. You'd really be helping me out!
NOTE: You can also listen to the episode here, or download the episode to your device (right click and save).
In This Episode, You'll Learn:
What Facebook is doing to

preserve the sanctity

of live video

The latest feature Instagram has

copied

from Snapchat

Why snapchat is dropping their

time limit

on Snaps

Why a virtual reality startup is running into some

serious legal troubles

Why "Flip or Flop" stars, Terek and Christina El Moussa's breakup might actually

help

their brand

How Budweiser is honoring Derek Jeter's

retired number

through a social video campaign

How the video of Thailand's King in a crop top has escalated to a

national security threat

Some of the latest video marketing stats published on

Tech.co

The two

latest tragedies

that have been

documented

on Facebook Live

Why Twitter's future

depends on video

, according to Fortune writer, Marc C-Scott

Why some of the world's largest companies are still

wary of YouTube

advertising after their ads ran on inappropriate content

What

Jillian Michael's

lawsuit win could mean for the future of free videos

What the power of intention means to businesses
Links & Resources
Get our Video ROI Mini-Course by

signing up here

Listen to

Episode 73

if you need some inspiration before going live on Facebook

Learn about the value of longer videos in

Episode 85
See the videos VaynerMedia created for baseball legend, Derek Jeter, and the Cub's World Series win below.
Thanks for Listening!
Thanks so much for listening to the show! Don't forget to subscribe on iTunes to get automatic updates when new episodes are available.
If you enjoyed the show, please share it using the social media buttons you see on the left.
Also, it would mean a lot to me if you would leave an honest rating and review on iTunes. Ratings and reviews not only help me serve you better, but they make a huge difference in the show's ranking on iTunes.
If you have any questions you'd like featured on the show, or if you would like to suggest an expert (yourself included!), please let us know HERE.