Marketing Lessons Learned From Hugh Hefner (Ep. 123)
by TODD HARTLEY, on Oct 3, 2017 6:10:00 AM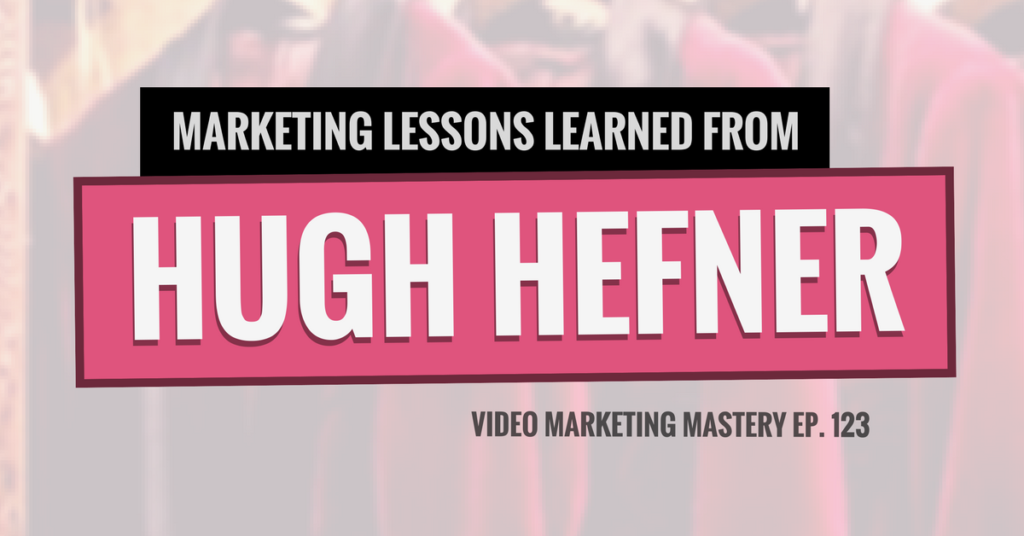 In light of Hugh Hefner's recent passing, I wanted to share a few marketing lessons I learned from him as a 9-years old kid.
At the time, my grandpa was a member of the Playboy club. And occasionally, he'd bring me along (he'd pay the doorman to let me in).

As I'm sure you can imagine, the whole experience was fascinating, but what I really remember are the marketing lessons I learned along the way.
If you want to hear exactly what those lessons were, how I've used them to build a 7-figure business, and how you can do the same, then I think you're going to love this episode of Video Marketing Mastery.
If you like the show, please leave us an honest rating and review on iTunes. You'd really be helping me out!
NOTE: You can also listen to the episode here, or download the episode to your device (right click and save).
In This Episode, You'll Learn:
Marketing lessons I learned from Hugh Hefner, and how they still apply today

Why it's always important to overcommunicate when dealing with other agencies, partners, and clients

How to use metaphors in your communication to get your message across clearly

Success often comes down to two things: _____ & _____ (find out in minute 15)

Why you should be sensitive to market signals, and how this philosophy led me to start WireBuzz in 2010

How billionaires see opportunity differently from millionaires and "thousandaires"
Links & Resources
Thanks for Listening!
Thanks so much for listening to the show! Don't forget to subscribe on iTunes to get automatic updates when new episodes are available.
If you enjoyed the show, please share it using the social media buttons you see on the left.
Also, it would mean a lot to me if you would leave an honest rating and review on iTunes. Ratings and reviews not only help me serve you better, but they make a huge difference in the show's ranking on iTunes.
If you have any questions you'd like featured on the show, or if you would like to suggest an expert (yourself included!), please let us know HERE.