How WireBuzz Became One Of The Fastest Growing Companies in America (Ep.250)
by TODD HARTLEY, on Sep 3, 2020 4:44:10 PM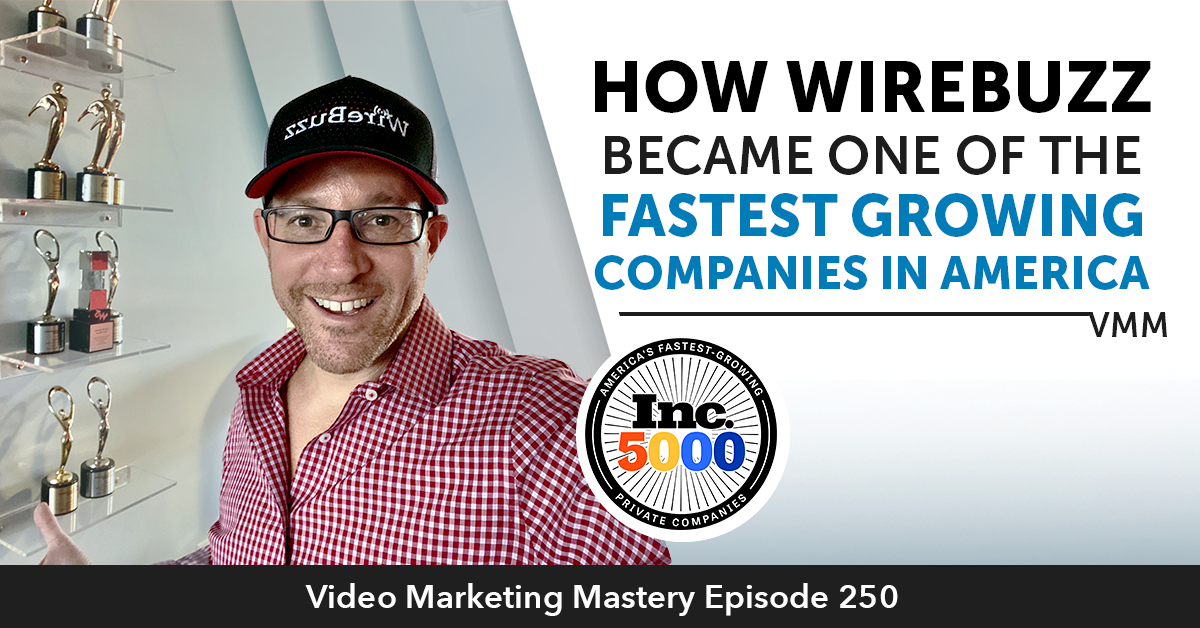 A lot of young businesses have trouble deciding how to price out their services.
Hell – About 3 years ago we ended the year with a really low % of profit...so low that over the New Year's break I was bent out of shape. How could we have just knocked out over 3,000 client videos that year and not have a huge pile of gold waiting for us?
The truth is, I was never taught how to price my projects. Back then, I actually thought my real problem was I just needed to sell more. And if I sold more, that would be the difference in the profit margin.
Having a tiny profit margin felt like a mission critical crisis we needed to solve. So what did we do? We flipped that crisis into opportunity and reworked how we priced every project that came through the door.
Our controller created a SaaS tool exclusively for us and it enabled us to stop guessing on our prices and deliver even more amazing work. You know what happened? It increased our profitability 7x!!! Can I get an "AMEN"?
And now we are one of Inc 5000's fastest growing private companies in America.
But it didn't just take reworking our pricing. Landing on the Inc 5000 required rethinking our services. Video is just the vessel that moves the buyer to the end goal. We had to provide more services so we could create buyers' journeys. In this episode I'll explain all the things we switched up so we could start pitching larger, more complex projects and focus on ROI.
And if I made our SaaS tool publicly available to you, and you are 100% interested in learning how to take your business to exponential growth, I might invest the money to get you access to the tool WireBuzz created. But I have to hear from you - so, let's test market demand right now. If you think you might want to use the tool that radically transformed our business and increased our end of the project profit margin 7x, send me an email at profit@wirebuzz.com.
---
If you like the show, please leave us an honest rating and review on iTunes. You'd really be helping me out!
NOTE: You can also listen to the episode here, or download the episode to your device (right click and save).
In This Episode, You'll Learn:
Why WireBuzz wasn't seeing the ROI they should have been

How to become more profitable by offering more services

Why it's not JUST about video!

About the tool that increased WireBuzz's profitability by 7x

Why the customer journey takes more than just a video



---
Links & Resources
Email Todd about the SaaS tool at

profit@wirebuzz.com

Check out the WireBuzz

remote

sales page

to see how we're using video

Follow Todd and tell him you're listening to the podcast on

LinkedIn
Thanks for Listening!
Thanks so much for listening to the show! Don't forget to subscribe on iTunes to get automatic updates when new episodes are available.
If you enjoyed the show, please share it using the social media buttons you see on the left.
Also, it would mean a lot to me if you would leave an honest rating and review on iTunes. Ratings and reviews not only help me serve you better, but they make a huge difference in the show's ranking on iTunes.
If you have any questions you'd like featured on the show, or if you would like to suggest an expert (yourself included!), please let us know HERE.