How to Future-Proof Your Videos by Putting Quality First (Ep. 13)
by TODD HARTLEY, on Mar 10, 2016 11:52:00 PM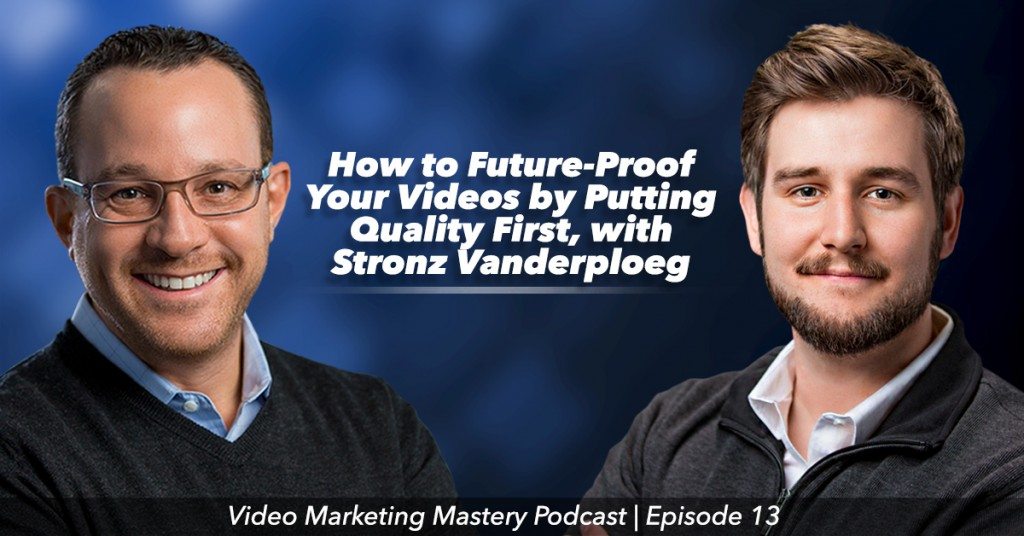 Let's be honest…
Videos are a significant investment for your company.
Whether you have a big budget, or a small one, when you produce a video, you want to get the most bang for your buck. Right?
And if you do a good job, you could potentially use your video asset for years to come.
But if you don't put quality first, it's likely that your videos will become outdated and need to be re-filmed in the future.
So doesn't it make sense to do them right the first time?
Well that's what we're going to talk about in this episode of Video Marketing Mastery.
To get the episode on iTunes, just click here: http://apple.co/1TAli50
If you like the show, please leave us an honest rating and review on iTunes. You'd really be helping me out!
NOTE: You can also listen to the episode here, or download the episode to your device (right click and save).
In This Episode, You'll Learn:
Why it's important to shoot videos in the highest resolution available

Why video resolution is even more important on computers and mobile devices than it is on your TV

Why it's important to shoot your videos in 4k now, even though most devices can't handle that resolution yet

Some of the situations in which you'd want 4k footage, even if you don't decide to use it today

Why brands that are built around quality should make 4k video production a priority

Some of the other factors, in addition to resolution, that affect image quality, such as sensor size, lens, bokeh, compression, etc.

Why scaling down to HD resolution (1080p) from Ultra-HD (4k) footage still gives you a better image quality than shooting in 1080p

If shooting your videos in 4k affects the costs of production
Links & Resources
Stronz Discussing 4k Resolution
[arve url="https://youtu.be/QjFuqXbyEhI" mode="normal" align="none" maxwidth="600"]
Thanks for Listening!
Thanks so much for listening to the show! Don't forget to subscribe on iTunes to get automatic updates when new episodes are available.
If you enjoyed the show, please share it using the social media buttons you see on the left.
Also, it would mean a lot to me if you would leave an honest rating and review on iTunes. Ratings and reviews not only help me serve you better, but they make a huge difference in the show's ranking on iTunes.
If you have any questions you'd like featured on the show, or if you would like to suggest an expert (yourself included!), please let us know HERE.