Google vs. YouTube: How to Maximize Video Rankings On Each, with Eric Enge (Ep. 109)
by TODD HARTLEY, on Aug 8, 2017 1:35:00 AM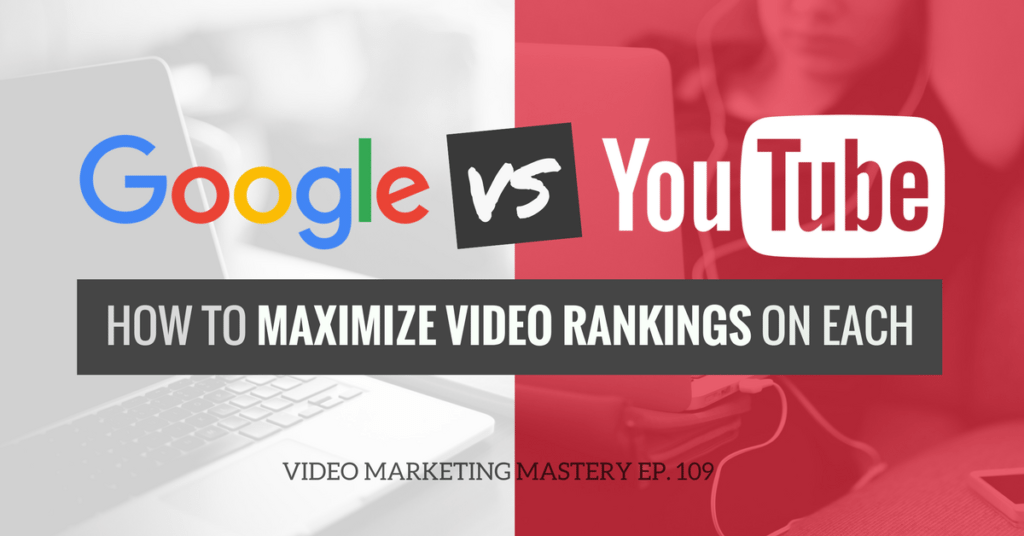 What makes videos rank on Google compared to YouTube?
Google owns YouTube, so it would make sense if they used the same algorithm, right?
But that's not the case.
Savvy video marketers understand that the purpose of Google and YouTube is, first and foremost, to deliver revenue.
Thus, each platform has different algorithms to maximize that objective.
Then, you have to consider user intent (clue: people go to Google to find quick answers, but they're likely to spend more time on YouTube consuming content).
So how do you create the right video strategy to maximize your goals on both platforms?
I'm glad you asked :)
Because my guest on this week's podcast is Eric Enge, CEO of Stone Temple Consulting AND 2016 Search Marketer of the Year.
Eric recently did a study to evaluate which videos do better on Google compared to YouTube, and the results were shocking!
So listen in to discover how to optimize your videos to dominate both search engines.
If you like the show, please leave us an honest rating and review on iTunes. You'd really be helping me out!
NOTE: You can also listen to the episode here, or download the episode to your device (right click and save).
In This Episode, You'll Learn:
How Google ranks videos differently than YouTube, and how to develop a video strategy to complement both

Why some videos that rank high on Google, don't always rank high on YouTube (and vice versa)

Which metrics matter more on Google compared to YouTube, and how this affects your video marketing strategy

The key difference between ads on Google and ads on YouTube

How user intent varies on each platform, and how that affects the optimization algorithms

Why YouTube isn't the #2 search engine, despite what most marketers are saying

The three types of videos that rank better on YouTube

The optimal word count length for long form content that gets the most social shares and links
Links & Resources
Thanks for Listening!
Thanks so much for listening to the show! Don't forget to subscribe on iTunes to get automatic updates when new episodes are available.
If you enjoyed the show, please share it using the social media buttons you see on the left.
Also, it would mean a lot to me if you would leave an honest rating and review on iTunes. Ratings and reviews not only help me serve you better, but they make a huge difference in the show's ranking on iTunes.
If you have any questions you'd like featured on the show, or if you would like to suggest an expert (yourself included!), please let us know HERE.