How to Get a Ton of Free Publicity Using Newsjacking, with David Meerman Scott (Ep. 167)
by TODD HARTLEY, on Jul 25, 2018 10:07:00 PM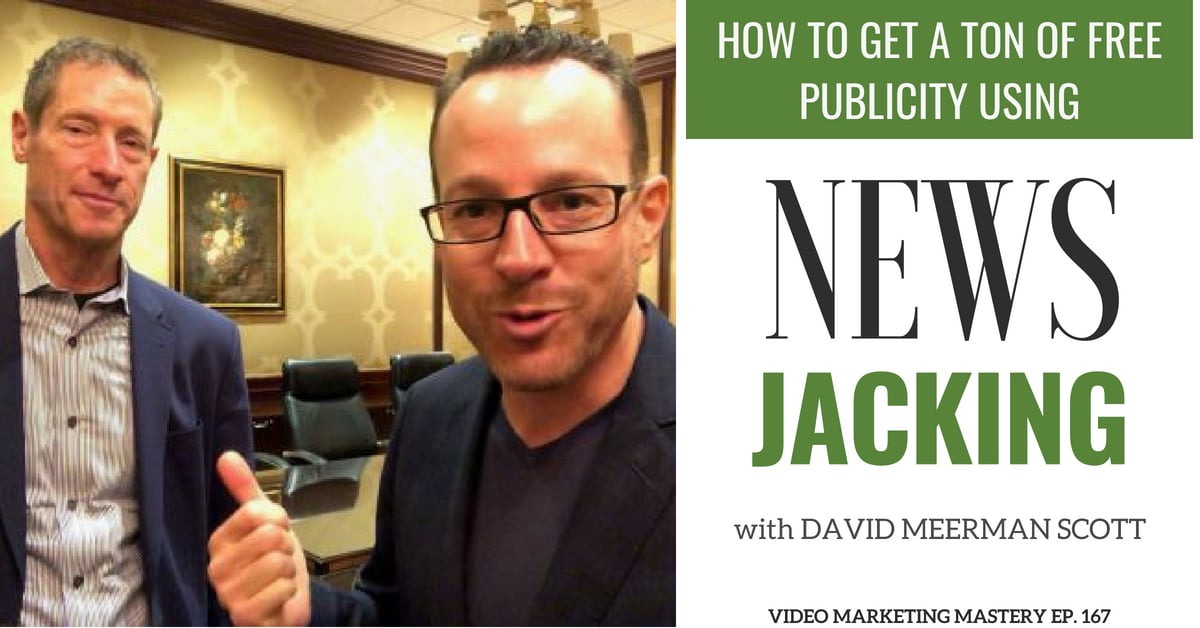 Getting publicity doesn't always have to be expensive.
In fact, there's a new word that just got entered into the Oxford English dictionary, and it could be a cheap solution to your publicity problems.
It's called Newsjacking, and it's a fun and simple way to attract more attention to your business without spending an arm and a leg on advertising, by capitalizing on breaking news stories.
So how do you do it?
Well, it's actually a lot like surfing - you have to ride the wave early or else you're going to miss it.
Plus, there are certain aspects to newsjacking that you want to be sensitive to, otherwise, you might come across offensive or inconsiderate.
We talked about newsjacking back in Episode 124, but this time I'm interviewing the man who coined the term — David Meerman Scott.
So if you're ready to learn how to capitalize on breaking news to garner inexpensive publicity for your business, then you don't want to miss this episode of Video Marketing Mastery.
If you like the show, please leave us an honest rating and review on iTunes. You'd really be helping me out!
NOTE: You can also listen to the episode here, or download the episode to your device (right click and save).
In This Episode, You'll Learn:
How the term "newsjacking" originated.

What is Newsjacking and how to do it.

How every news story follows a predictable bell-shaped curve.

The similarities between surfing and newsjacking..

How to use Google News to identify newsjacking opportunities..

How Cheerios used newsjacking unsuccessfully and how to avoid that happening to you.

If it's possible to plan newsjacking in advance.

Why you need to develop a team of people in your office that you know, like, and trust to newsjack successfully.
Links & Resources
Thanks for Listening!
Thanks so much for listening to the show! Don't forget to subscribe on iTunes to get automatic updates when new episodes are available.
If you enjoyed the show, please share it using the social media buttons you see on the left.
Also, it would mean a lot to me if you would leave an honest rating and review on iTunes. Ratings and reviews not only help me serve you better, but they make a huge difference in the show's ranking on iTunes.
If you have any questions you'd like featured on the show, or if you would like to suggest an expert (yourself included!), please let us know HERE.