How to Use Geofencing to Optimize Your Digital Marketing Campaigns (Ep. 169)
by TODD HARTLEY, on Aug 13, 2018 10:11:00 PM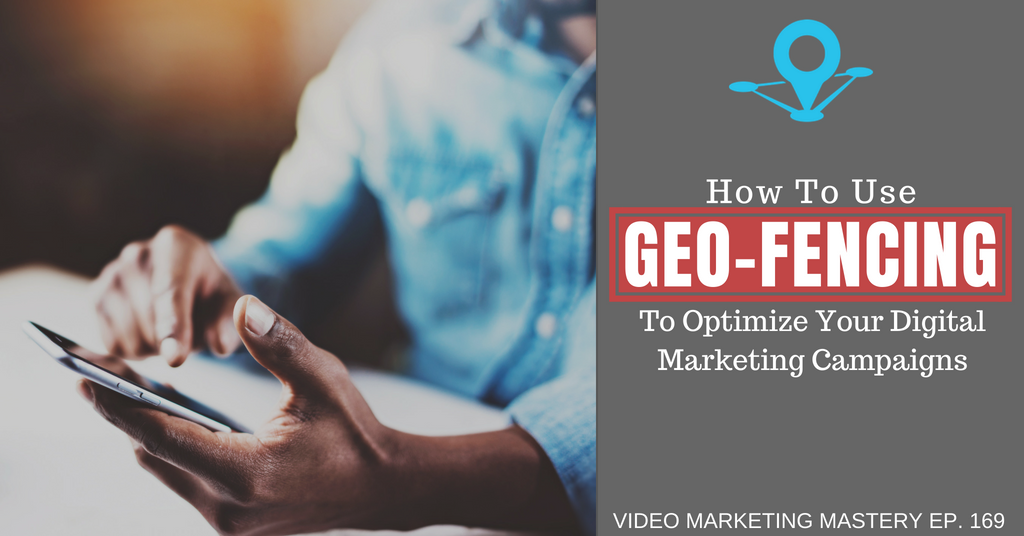 Geofencing is a unique marketing boundary that, when customers enter it, allows you to send them specific targeted messages.
Let me explain.
Imagine if your business had an invisible fence with a 5-mile radius.
Whenever someone passes through your fence, they receive a location-triggered alert or deal that makes them considerably more likely to stop in and shop.
That's how geofencing works, and it's an effective way for businesses to use hyper-local targeting to get their message or offer in front of their target audience.
You can use this tactic to target local events, conferences, and other businesses that your prospects are engaging with.
Our guest on the podcast is Karl Spilseth, Marketing Manager at Medtronic. Together, we chat about how to optimize your digital marketing campaigns with geofencing.
So, if you want to learn how to get better returns from your advertising spend using geofencing, then you don't want to miss this episode of Video Marketing Mastery.
If you like the show, please leave us an honest rating and review on iTunes. You'd really be helping me out!
NOTE: You can also listen to the episode here, or download the episode to your device (right click and save).
In This Episode, You'll Learn:
What geofencing is and how businesses are using it today to attract new customers

How to combine geofencing and retargeting to move customers through your sales funnel

How medical marketers can use geofencing to get in front of doctors and physicians

Why geotargeting is a more efficient way to spend your advertising dollars
Links & Resources
Gain access to our free Video ROI mini-course by signing up

here

Pitch us

a question that we can answer in a future podcast episode
Thanks for Listening!
Thanks so much for listening to the show! Don't forget to subscribe on iTunes to get automatic updates when new episodes are available.
If you enjoyed the show, please share it using the social media buttons you see on the left.
Also, it would mean a lot to me if you would leave an honest rating and review on iTunes. Ratings and reviews not only help me serve you better, but they make a huge difference in the show's ranking on iTunes.
If you have any questions you'd like featured on the show, or if you would like to suggest an expert (yourself included!), please let us know HERE.