Fanocracy: Turning Customers Into Raving Fans (Ep. 220)
by TODD HARTLEY, on Jan 21, 2020 2:54:00 AM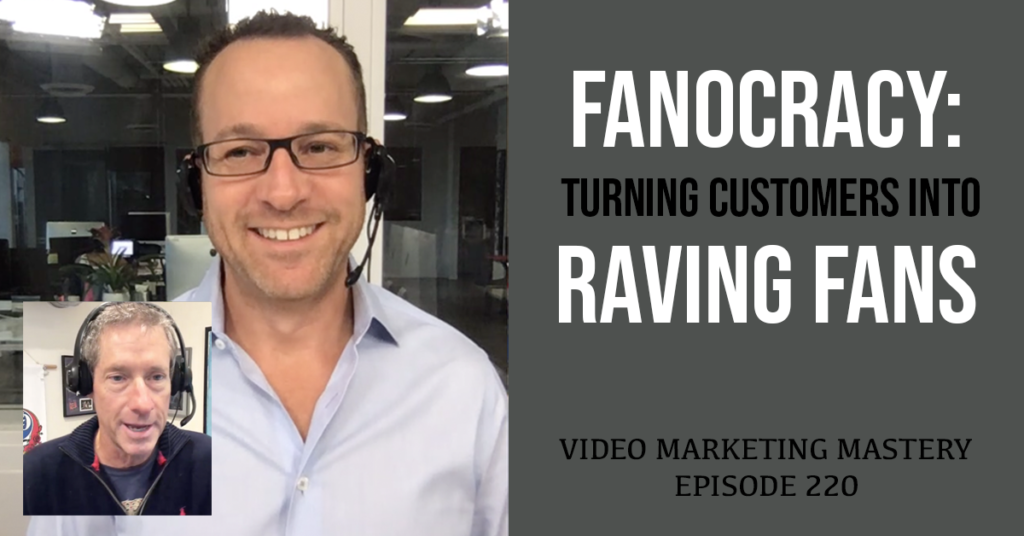 Recently, I was working at a Tony Robbins event and a good friend of the Toddcast, David Meerman Scott, took the stage to discuss Fanocracy. Recognizing this was a super valuable topic to Video Marketing Mastery followers, we brought David back on the show to share more about this concept.
David feels like we've gone too far in the direction of superficial online communication and that it's time the pendulum swings back the other way towards genuine human connection. That's what Fanocracy is all about.
And growing a large fanbase isn't limited to just athletes, musicians, and celebrities. In this episode, he'll reveal how any business can develop a large following of raving fans, even B2B companies (hint: he shares a story of an insurance company that grew their YouTube channel to 700,000 followers). Plus, he shares how he combines neuroscience with video to create this "raving fan" effect even faster.
Read to turn more of your customers into raving fans? Then tune in to this episode of Video Marketing Mastery!
If you like the show, please leave us an honest rating and review on iTunes. You'd really be helping me out!
NOTE: You can also listen to the episode here, or download the episode to your device (right click and save).
In This Episode, You'll Learn:
How any business can use "fandom" to create a loyal following of raving fans

How David combines neuroscience with video to grow his loyal following

What happens to the brain when you focus on something you love and how you can use that to your advantage when it comes to marketing

How to be more interesting (and less "businessy") on social media
Links & Resources
Gain access to our free Video ROI mini-course by signing up

here

Pitch us

a question that we can answer in a future podcast episode
Thanks for Listening!
Thanks so much for listening to the show! Don't forget to subscribe on iTunes to get automatic updates when new episodes are available.
If you enjoyed the show, please share it using the social media buttons you see on the left.
Also, it would mean a lot to me if you would leave an honest rating and review on iTunes. Ratings and reviews not only help me serve you better, but they make a huge difference in the show's ranking on iTunes.
If you have any questions you'd like featured on the show, or if you would like to suggest an expert (yourself included!), please let us know HERE.