What Fake News Means for Google and Facebook (Ep. 52)
by TODD HARTLEY, on Dec 6, 2016 8:09:00 PM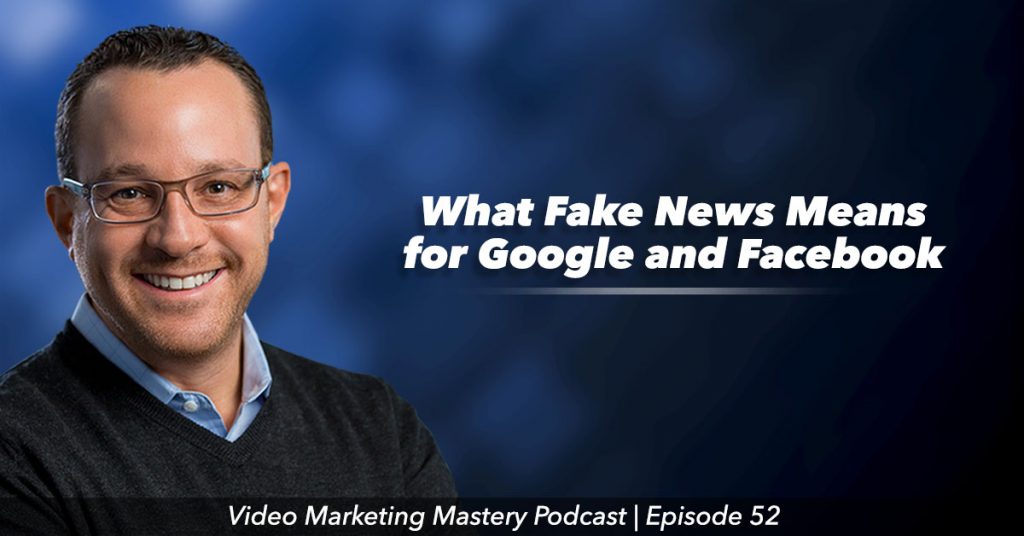 Recently, everyone's been up-in-arms about fake news.
Facebook and Google are both receiving tons of criticism for allowing websites that publish inaccurate articles to go viral on their sites.
Some are even citing fake news as the reason for the 2016 presidential election results!
But as an investigative journalist in my past career, I know this is nothing new.
Fake news was a problem long before Google and Facebook ever existed, only now it's easier to spot and fact-check.
For many, that's not a good enough solution...
People are calling for reform.
But if two of the biggest tech giants in world start doing what is asked of them and become the judges of what is and isn't "real," then what does that mean for new media?
In this episode, I share the consequences of censorship in the digital age, and answer a few of our listeners' video questions that we've received over the past week.
This is definitely an episode you won't want to miss!
Get the episode on iTunes: http://apple.co/2gV0s2C
If you like the show, please leave us an honest rating and review on iTunes. You'd really be helping me out!
NOTE: You can also listen to the episode here, or download the episode to your device (right click and save).
In This Episode, You'll Learn:
Where videos fall in the buyer's journey

How WireBuzz uses video in the buyer's journey to increase sales

Why you need to identify how your next video will impact business
News Update: GoPro has let go 15% of its workforce and cut their entertainment division
News Update: Justin Bieber claims that Instagram is for the devil. Why? Who knows…
News Update: Facebook expands to India with Express WiFi, a software that provides internet access to local entrepreneurs
News Update: ESPN has lost more than 1 million subscribers over the last two months alone
What Facebook and Google are doing to handle their fake news problem
What cleaning up fake news actually means, and how it will change tech and social media
Why fake news has always been a problem
Todd's experience uncovering 7 of the 8 biggest news scandals in Arizona history in his previous career as an investigative journalist
Why censorship ruins credibility and destroys businesses
News Update: Reddit tries it's own version of censorship by penalizing users that violate the site's rules
News Update: There's an increase in requests to suspend Donald Trump's Twitter account
Why people watch longer videos
When a shorter video is appropriate
Links & Resources
Check out my Little League team with Tito Jackson and his 3 sons!
Take a close look at these two newspaper clippings:
Trust me, fake news has been a problem for a long time!
Thanks for Listening!
Thanks so much for listening to the show! Don't forget to subscribe on iTunes to get automatic updates when new episodes are available.
If you enjoyed the show, please share it using the social media buttons you see on the left.
Also, it would mean a lot to me if you would leave an honest rating and review on iTunes. Ratings and reviews not only help me serve you better, but they make a huge difference in the show's ranking on iTunes.
If you have any questions you'd like featured on the show, or if you would like to suggest an expert (yourself included!), please let us know HERE.