Facebook's Best Practices For Increasing Video Reach (Ep. 206)
by TODD HARTLEY, on Jun 19, 2019 2:27:00 AM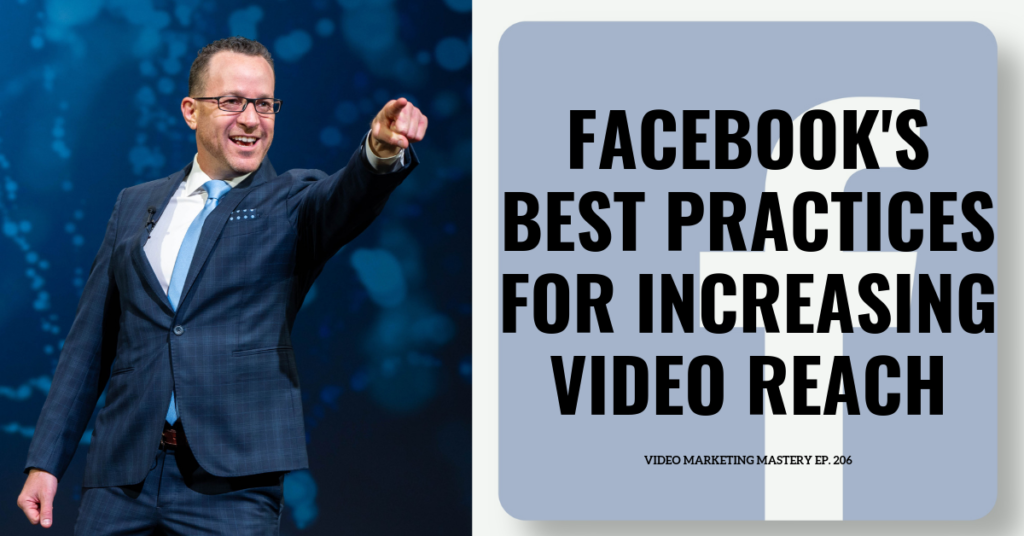 Facebook has reached 2.38 billion monthly active users.
Pretty crazy, right?
And with so many people using the platform, you'd think it would be easy to increase your content's reach…
...but you'd be mistaken.
You may presume your content is good enough for "Facebook Land," but the judges at Facebook may have a different opinion. They want your videos to be authentic and originaal, just like our real-life relationships should be (crazy concept, right?).
In this episode, you'll discover what Facebook is REALLY looking for and how you can create videos that align with their standards so your content gets seen by more people.
Facebook isn't going anywhere soon so if you want a leg up on your competition, tune in to this week's episode of Video Marketing Mastery!
If you like the show, please leave us an honest rating and review on iTunes. You'd really be helping me out!
NOTE: You can also listen to the episode here, or download the episode to your device (right click and save).
In This Episode, You'll Learn:
Why it's important for your content to have high engagement

Why authenticity and vulnerability are crucial for your business growth

The best practices for increasing your video reach on Facebook

How to keep prospects on your website longer and convert them into leads
Links & Resources
Join the WireBuzz Insider Facebook Group

here

Gain access to our free Video ROI mini-course by signing up

here

Pitch us

a question that we can answer in a future podcast episode

Team WireBuzz on location, right before the Blackmagic Pocket Cinema Camera 4K accident.
Thanks for Listening!
Thanks so much for listening to the show! Don't forget to subscribe on iTunes to get automatic updates when new episodes are available.
If you enjoyed the show, please share it using the social media buttons you see on the left.
Also, it would mean a lot to me if you would leave an honest rating and review on iTunes. Ratings and reviews not only help me serve you better, but they make a huge difference in the show's ranking on iTunes.
If you have any questions you'd like featured on the show, or if you would like to suggest an expert (yourself included!), please let us know HERE.