Why Facebook and Instagram are Copying Snapchat (Ep. 80)
by TODD HARTLEY, on Apr 26, 2017 10:31:00 PM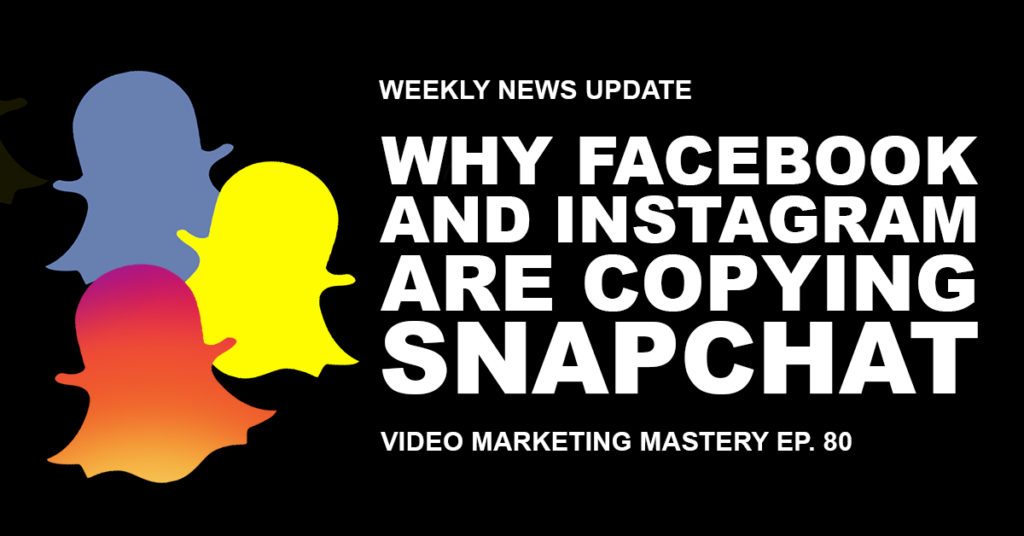 As a part of their "video first" strategy, Facebook and Instagram have added lots of new video features in a very short amount of time. But these new features don't look entirely unique to Facebook and Instagram's platforms.
In fact, both mobile apps have added Stories, which appear almost identical to the interface of one of their biggest rivals, Snapchat.
It seems strange, right?
Why would two highly successful social media platforms copy their competitor? Shouldn't they try something new and innovative to attract new users and re-engage fans?
Not necessarily…
This isn't the first time we've seen social platforms steal from each other, and I'm sure it won't be the last. So if you want to learn why today's biggest social media companies are borrowing ideas and features from one another, you'll want to listen to this episode to get the latest news in video marketing!
If you like the show, please leave us an honest rating and review on iTunes. You'd really be helping me out!
NOTE: You can also listen to the episode here, or download the episode to your device (right click and save).
In This Episode, You'll Learn:
Links & Resources
After you've signed up for the mini-course, be sure to watch my blooper reel!
Thanks for Listening!
Thanks so much for listening to the show! Don't forget to subscribe on iTunes to get automatic updates when new episodes are available.
If you enjoyed the show, please share it using the social media buttons you see on the left.
Also, it would mean a lot to me if you would leave an honest rating and review on iTunes. Ratings and reviews not only help me serve you better, but they make a huge difference in the show's ranking on iTunes.
If you have any questions you'd like featured on the show, or if you would like to suggest an expert (yourself included!), please let us know HERE.