Transform Facebook Friends Into a Business Referral Network (Ep. 35)
by TODD HARTLEY, on Aug 9, 2016 2:56:00 AM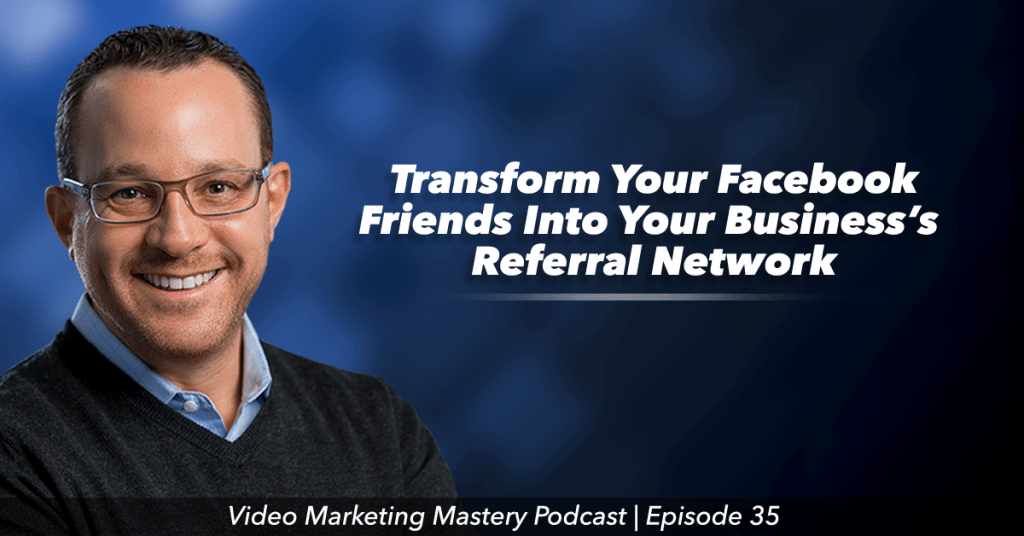 Whether you realize it or not, you probably already know your company's biggest advocates.
They might be your childhood friend, a connection you made at an event, the relative you haven't talk to in years, an old co-worker. Really, it could be anyone on your Facebook friends list.
Think about it — these people know you, trust you, and are willing to listen to what you have to say. You've already built a relationship with them, so it won't take much to convince them that your business has a lot to offer.
The only thing that's missing is relevancy. Sure, you write status updates about work and share posts from your business's Facebook page, but those things can quickly get buried in your friends' and followers' News Feed.
So how do you deliver information that will stay at the very top, so that people will notice you and remember the value that your business provides?
Well, right now Facebook has a huge window of opportunity — Facebook Live.
While your Facebook event is live, your broadcast will appear front and center on your followers' feed, making you and your business memorable. So the next time someone needs a product or service that your business provides, your friends will think of your live event and give you a referral.
But how do you know what kind of content will resonate with your followers, and when is the best time to host one?
In this episode, I'll answer all of these questions and shares how I use Facebook Live events to turn my friends and followers into my business's referral network.
Get the episode on iTunes: http://apple.co/2aM3sxO
If you like the show, please leave us an honest rating and review on iTunes. You'd really be helping me out!
NOTE: You can also listen to the episode here, or download this episode to your device (right click and save).
In This Episode, You'll Learn:
News Update: We're excited to announce that WireBuzz won a Telly Award! See our award-winning video

here

News Update:

58% of search queries

come from mobile — find out why it's critical for you to optimize your website for mobile and find out how to see if

yours passes the test

with Google's new tool,

TestMySite

News Update: It looks like Facebook will be opening up a new revenue stream — they're

testing video ads

during live video broadcasts

News Update: YouTube is sending 15 starts to live stream at the

2016 Olympic Games

Why you should host a Facebook Live event to turn your friends and followers into your business's referral network

How to choose a topic for your event that will resonate with your friends and followers

How to determine the best time to stream your Facebook Live event

Why your Facebook followers and friends are more likely to help you grow your business when you're making helpful (not viral) content
Links & Resources
Thanks for Listening!
Thanks so much for listening to the show! Don't forget to subscribe on iTunes to get automatic updates when new episodes are available.
If you enjoyed the show, please share it using the social media buttons you see on the left.
Also, it would mean a lot to me if you would leave an honest rating and review on iTunes. Ratings and reviews not only help me serve you better, but they make a huge difference in the show's ranking on iTunes.
If you have any questions you'd like featured on the show, or if you would like to suggest an expert (yourself included!), please let us know HERE.