Facebook Algorithm Change 2018: What Businesses Need to Know (Ep. 137)
by TODD HARTLEY, on Feb 6, 2018 7:33:00 AM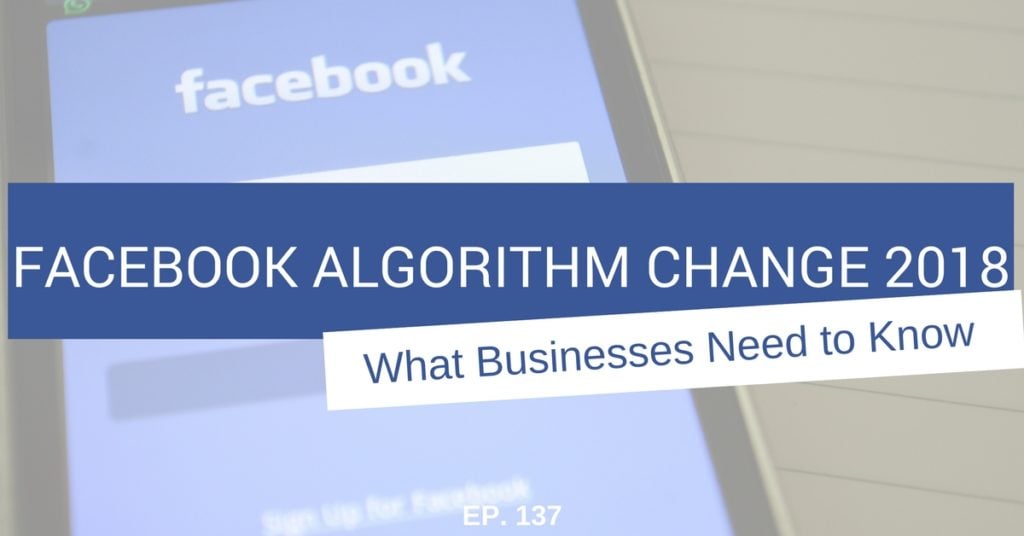 Imagine this, you're scrolling through your newsfeed on Facebook and you're seeing nothing but ads and content from businesses. Frustrating, right?
When we use social networks, we don't mind ads once in a while, but we really like to see what our friends and families are posting. Facebook knows this, so they're changing the algorithm on all of us.
If you're a business, it's likely that you've been spending a lot of money to create great content and posting it on Facebook to get it in front of your followers. But gone are the days where content alone will get you a lot of engagement.
Facebook is now a "pay-to-play" platform. In fact, creating great content for Facebook could now be a waste of your time without a corresponding ad campaign.
"But I've spent so much time and money optimizing my Facebook page, was that all a waste??" Good question, the short answer is "no." And there are some things you can do if you've invested a lot of time, and we'll give you those tips in this episode.
Facebook is still the most powerful ad platform out there, so don't write it off.
Over 75% of Facebook and Instagram followers visit the platform at least once per day.
So check out this episode to learn how to tap into the most robust ad targeting platform and channel success even after the algorithm change.
If you like the show, please leave us an honest rating and review on iTunes. You'd really be helping me out!
NOTE: You can also listen to the episode here, or download the episode to your device (right click and save).
In This Episode, You'll Learn:
Why every business needs to be shifting to providing all of their sales materials on their website.

Why people are 4x more likely to watch a video than to read text.

Why nobody wants to talk to salespeople anymore.

How the internet has disrupted every aspect of your life and how that affects your prospects.

How to use the videos in your arsenal to convince and convert at faster rates.

Why pre-production is so important on video shoots.

How long a large national product takes to complete from start to finish.

How the shift in Facebook's algorithm will affect marketers.

Why you need an ad budget if you want to be successful on Facebook.

How you can use Facebook and Instagram together to monetize both platforms.

Learn some simple things you can do on Facebook if you're already invested in the platform.
Links & Resources
Gain access to our free Video ROI mini-course by signing up

here

Learn how to accelerate your sales process using the process of video with

this webinar

.

Pitch us

a question that we can answer in a future podcast episode

See Neil Patel's tips for

how to stay visible on Facebook

.

Pictures from the video shoot:
[gallery size="full" link="none" ids="6365,6366,6367"]
Thanks for Listening!
Thanks so much for listening to the show! Don't forget to subscribe on iTunes to get automatic updates when new episodes are available.
If you enjoyed the show, please share it using the social media buttons you see on the left.
Also, it would mean a lot to me if you would leave an honest rating and review on iTunes. Ratings and reviews not only help me serve you better, but they make a huge difference in the show's ranking on iTunes.
If you have any questions you'd like featured on the show, or if you would like to suggest an expert (yourself included!), please let us know HERE.