How to Use Facebook Ads in Different Stages of the Buying Process, with Steve Hetrick (Ep. 118)
by TODD HARTLEY, on Sep 14, 2017 5:48:00 AM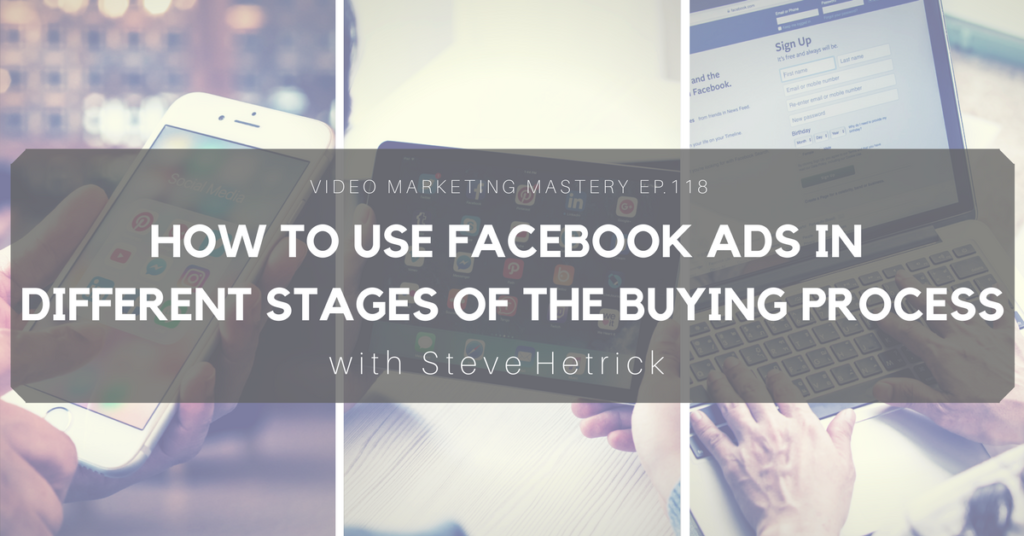 Looking to use Facebook Ads to generate more targeted leads for your business?
With over 2 billion monthly active users, it's a utopia for virtually any business that wants more traffic.
But the Facebook gold rush has spread like wildfire, and our news feeds are saturated with more ads than ever before.
Marketing experts see the trends — people are becoming more immune to ads and costs are rising due to increased competition.
After all, no one wakes up and thinks, "I can't wait to sign up for a free webinar on Facebook today!"
So how do you hack their attention and get them interested in what your business has to offer, without hemorrhaging your budget?
I'm bringing on Steve Hetrick, Director of Advertising at Wirebuzz, to shed light on this topic.
Together, we'll be sharing the ins and outs of using Facebook ads to move people through the different stages of the buying process.
If you like the show, please leave us an honest rating and review on iTunes. You'd really be helping me out!
NOTE: You can also listen to the episode here, or download the episode to your device (right click and save).
In This Episode, You'll Learn:
The five stages of the buying process and how to optimize your ads at each stage

How the buying process differs in B2B versus B2C

The six emotions that drive human decision-making so that you can use them in your ad copy

How to use Facebook ads to target people at the awareness stage, consideration stage, and decision stage

How to steal the best practices from television infomercials and apply them to your Facebook ad copy

The 40, 40, 20 principles of marketing design

How to segment your customer list inside of Facebook based on their actions

What does it cost to promote a video ad and how does it vary?

What's a good call-to-action for each stage in the buying process?

How brick-and-mortar businesses can use Facebook ads to generate more leads and sales

Why companies should consider manual bidding during the holiday season to lower expenses

How Facebook's algorithm auto-optimizes your campaigns

When it's the right time to discuss Facebook advertising budget with your clients
Links & Resources
Gain access to our free Video ROI mini-course by signing up

here

Pitch us

a question that we can answer in a future podcast episode
Thanks for Listening!
Thanks so much for listening to the show! Don't forget to subscribe on iTunes to get automatic updates when new episodes are available.
If you enjoyed the show, please share it using the social media buttons you see on the left.
Also, it would mean a lot to me if you would leave an honest rating and review on iTunes. Ratings and reviews not only help me serve you better, but they make a huge difference in the show's ranking on iTunes.
If you have any questions you'd like featured on the show, or if you would like to suggest an expert (yourself included!), please let us know HERE.