How to Double Your Website Engagement (Ep. 102)
by TODD HARTLEY, on Jul 12, 2017 1:15:00 AM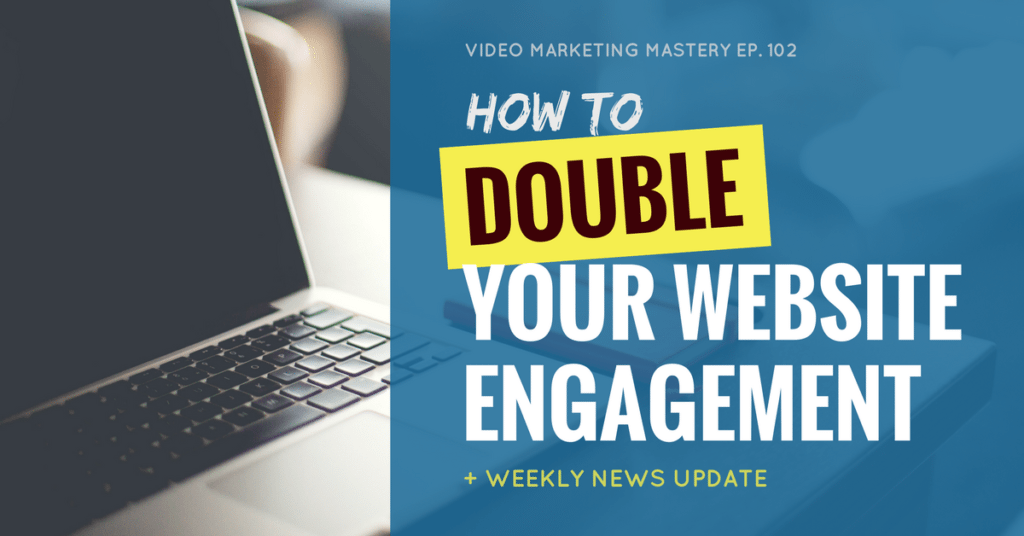 Ever since we launched the Video Marketing Mastery Podcast, it's been a goal of mine to do one thing:
Help you become a better digital marketer.
It's the main reason this podcast is about so much more than just video marketing strategies. Every time we publish a new episode, I want to help you take another step towards understanding how to leverage the power of video to grow your business.
But to do that, you need a balance of tips and tactics, along with the latest news and trends.
So in this episode, we're uncovering the biggest stories and headlines from Facebook, YouTube, Instagram and Google to help you stay ahead of the curve and understand the role video plays in growing your business.
Plus, I'll explain the one thing you must have on your website if you want to double your engagement rates!
Ready? Let's go!
If you like the show, please leave us an honest rating and review on iTunes. You'd really be helping me out!
NOTE: You can also listen to the episode here, or download the episode to your device (right click and save).
In This Episode, You'll Learn:
Links & Resources
Gain access to our free Video ROI mini-course by signing up

here

Tweet me

@TheToddHartley

if you're a new follower and want to receive a personalized video from yours truly

Pitch us

a question that we can answer in a future podcast episode
Thanks for Listening!
Thanks so much for listening to the show! Don't forget to subscribe on iTunes to get automatic updates when new episodes are available.
If you enjoyed the show, please share it using the social media buttons you see on the left.
Also, it would mean a lot to me if you would leave an honest rating and review on iTunes. Ratings and reviews not only help me serve you better, but they make a huge difference in the show's ranking on iTunes.
If you have any questions you'd like featured on the show, or if you would like to suggest an expert (yourself included!), please let us know HERE.