Dominate Google Search Without Paid Ads (Ep. 237)
by TODD HARTLEY, on May 28, 2020 1:07:39 PM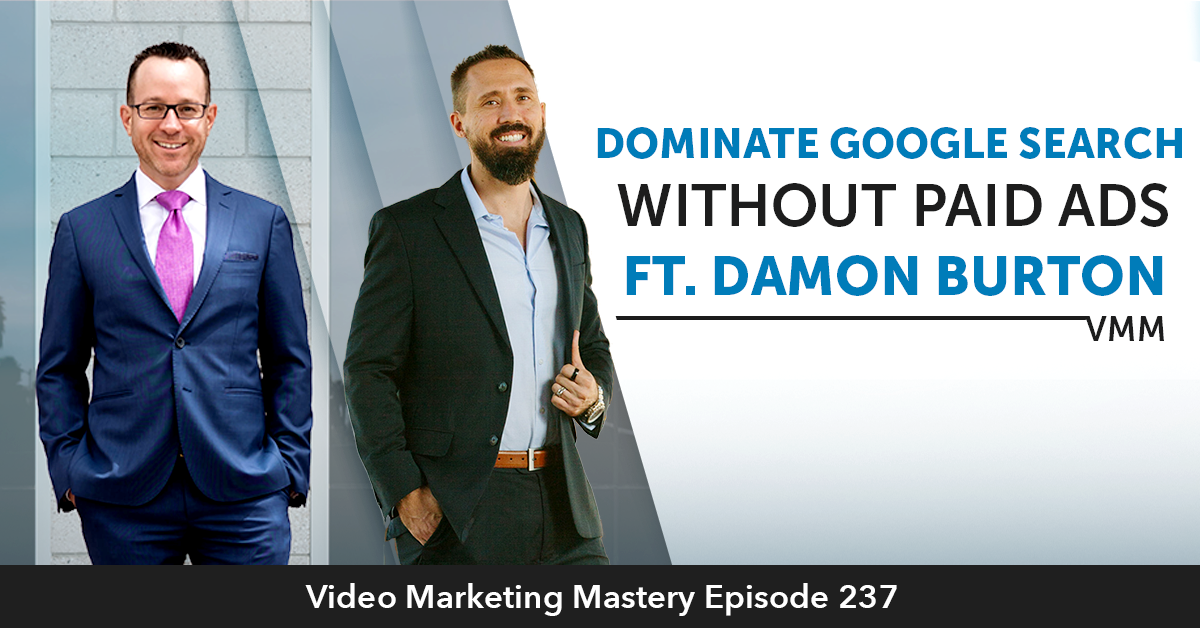 As a business owner you want your website to rank high on Google search and at some point you've probably paid for Google Ads or tried to figure out SEO.
And with Google constantly changing their algorithms, it can be hard to keep up. In fact, Google JUST rolled out their May 2020 Core algorithm update.
So if you're spending top dollar on Google ads you want to make sure you're getting it right. But did you know you can rank #1 on Google without spending a dime?
You have to put in the work over time, but if you play by the rules and stop trying to "hack" the algorithm, you'll actually get better results.
Google isn't hiding how they decide to rank you. At the end of the day they WANT to give you general guidelines because if you create good content and effective websites, you're making them look good. Sure, creating content that ranks high in search results takes time, but it's worth not having to sweat over an algorithm penalty.
This week on the show I talk with Damon Burton, founder of SEO National and a search engine marketing expert who has beaten billion dollar companies at their own game. His new book Outrank serves as a guide to those who want to dominate Google's search results without paying for ads. We discuss why you should use the free "slow and steady" approach to SEO instead of trying expensive "new hacks" for short-term gains with long-term penalties, an approach I've followed throughout my 20+ years in digital marketing.
Navigating the world of search engine optimization can be confusing, but Damon puts it ALL into perspective. This episode is full of powerful knowledge and tips, so make sure to take notes on this week's episode of Video Marketing Mastery.
If you like the show, please leave us an honest rating and review on iTunes. You'd really be helping me out!
NOTE: You can also listen to the episode here, or download the episode to your device (right click and save).
In This Episode, You'll Learn:
Foundational SEO principles to take into consideration
How to play by the rules to get better results
Why you should stop using meta keywords
How to make Google understand what your video says
What happens to your main domain by making microsites
How to identify correct keywords and buyer's intent
Links & Resources
Thanks for Listening!
Thanks so much for listening to the show! Don't forget to subscribe on iTunes to get automatic updates when new episodes are available.
If you enjoyed the show, please share it using the social media buttons you see on the left.
Also, it would mean a lot to me if you would leave an honest rating and review on iTunes. Ratings and reviews not only help me serve you better, but they make a huge difference in the show's ranking on iTunes.
If you have any questions you'd like featured on the show, or if you would like to suggest an expert (yourself included!), please let us know HERE.