Discover the Neuroscience of Proximity in Video: Todd Talks with David Meerman Scott
by WireBuzz, on Sep 8, 2021 3:35:44 PM
Have you ever found yourself watching a movie and feeling like you know the characters personally? If so, it may have a lot to do with how the movie is shot. In this episode of Video Marketing Mastery, our CEO Todd Hartley talks with David Meerman Scott about the Neuroscience of Proximity—in other words, how the brain connects being close with feeling close.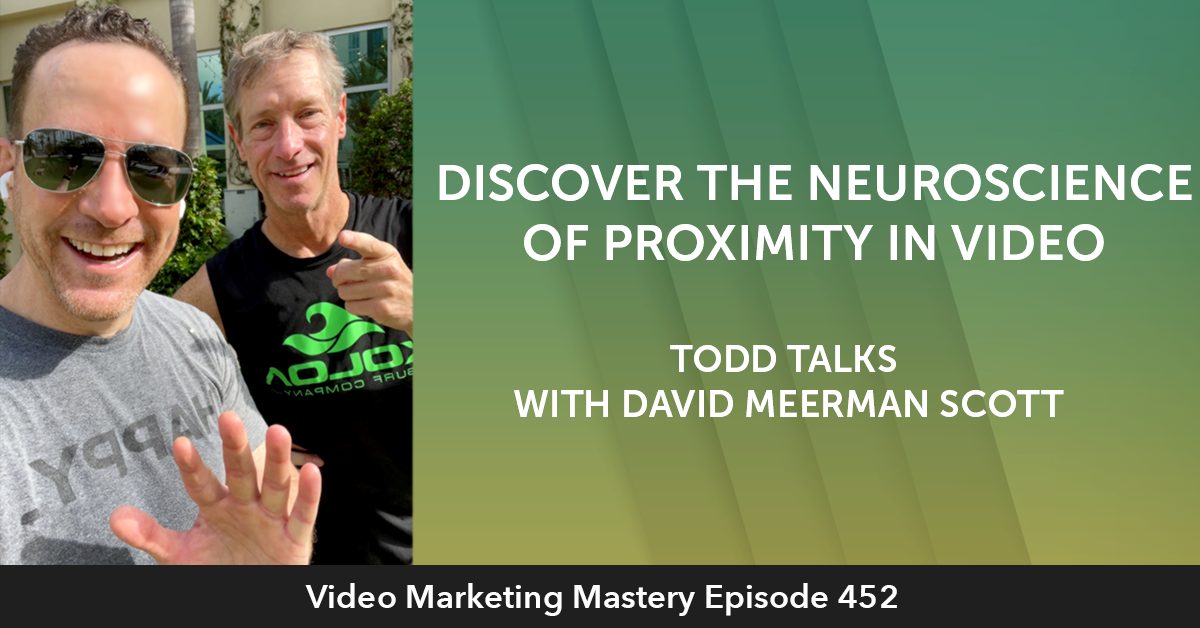 When co-authoring his latest book, Fanocracy, David spoke to many neuroscientists about the science behind becoming a fan. What he learned is that humans are hardwired to be part of a tribe—always have been. And when it comes to applying this theory to creating fandom, a lot of connection has to do with how far away you are from another person.
Inside the space of four feet, is where most personal relationships are formed. Prior to the pandemic, the most powerful way to build fans was to cultivate those relationships by spending time with them one-on-one in the same physical space. However, according to science, you can still build those relationships over video—you just need to film it right.
If you get up close when you shoot, it creates a more intimate and personal experience. And it causes the viewer's brain to react the same way as if they were in the room with you. This is part of the reason why so many people feel like they personally know TV and movie stars.
Todd has talked with David in other episodes of Video Marketing Mastery. To hear more check out these past episodes and learn more!
Fanocracy: Turning Customers Into Raving Fans (Ep. 220)
https://www.wirebuzz.com/blog/fanocracy-turning-customers-into-raving-fans
How to Get a Ton of Free Publicity Using Newsjacking, with David Meerman Scott (Ep. 167)
https://www.wirebuzz.com/blog/fanocracy-turning-customers-into-raving-fans
To learn more about David, head to his website at davidmeermanscott.com.
And if you want to work with us to create a strategy that will turn your prospects into superfans, head to wirebuzz.com/talk and fill out the form to schedule a free 15 minute meeting.